The main reason for the special two-part exhibit "America's First Museum: 250 Years of Collecting, Preserving and Educating" is to celebrate The Charleston Museum's anniversary and show off objects from all five of its collections: archaeology, archives, history, natural history and textiles.
The other reason is to bring to light some objects that have been hidden from view.
Only 6,000 pieces are exhibited at any given moment, said Executive Director Carl Borick. That leaves about 2,394,000 objects left in storage, making the museum's collection noteworthy for its size, variety and historical importance.
To be clear, many of those items are fragments of pottery or glassware or dinnerware recovered at archaeological digs. But that makes the museum's collection even more remarkable: It is partly the result of nearly a century's worth of investment in urban archaeology.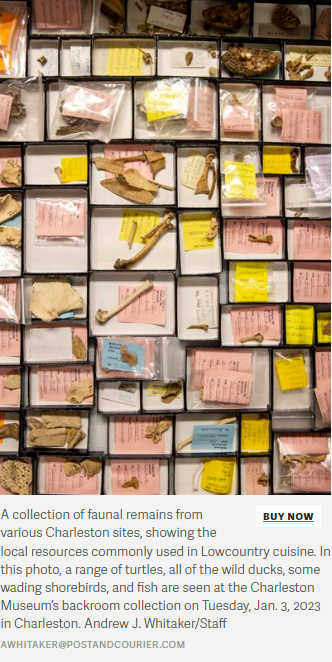 It's also the result of 2½ centuries of donations. Very little is purchased at auction or elsewhere, Borick said.
Perhaps around 30 objects are added to the collection each year, he said. Dozens of items are deaccessioned, things outside the museum's stated mission to tell the story of the Lowcountry.
For example, there are six old sewing machines with no Lowcountry provenance and little exhibition value. They're pretty cool in their way, but they're just taking up shelf space. So off they go. Possibly they'll be sold at auction, generating a modest bump in annual income.
The sword used by Charleston Loyalist Hamilton Ballendine during the British siege on the city in the spring of 1780? Well, that will be added soon to the Revolutionary War displays, according to Jennifer McCormick, the museum's chief of collections and archivist.
Many objects, such as fragile textiles, dolls, eggs and animal parts, are too delicate to showcase except rarely. Some of the old dresses and shirts cannot be displayed on a mannequin; they must be laid flat. Ultraviolet light will further deteriorate the fibers.
In some cases, objects are simply too numerous to display but a sample or two. For example, the museum has a fine assemblage of walking sticks, some folksy, some highfalutin. One has a tiny sword hidden inside. Another has a hand carved snake coiling around the stick. One has a handle made of horn, another of silver. They don't find their way into the galleries very often, McCormick said.
A bunch of musical instruments enjoy the shade of storage, including an early banjo with an animal skin stretched over the drum. The banjo is African in origin, and this specimen likely comes from there.
Weapons. That's another collection brimming over the edge. Handguns, rifles, swords — so many it's impossible to show them all.
And furniture, including some stunning pieces from the 18th century, made in Charleston, like the desk by Thomas Elf. Not much space for all that either.
But that doesn't stop students writing dissertations, interns helping with inventory, scholars studying ancient Native American communities, paleontologists interested in 18-foot giant sloths, and historians of the antebellum and postbellum South from poring over these objects and adding to our collective knowledge of bygone epochs.
While visitors admire the displays out front, others are busy behind the scenes scrutinizing the collected doohickeys and thingamabobs that, taken together, give us a vivid picture of the past.
Like the list of names of Black men who served in the city's 19th century fire brigades.
Like The Charleston Mercury's front page from 1861 proclaiming that the "Union is dissolved!"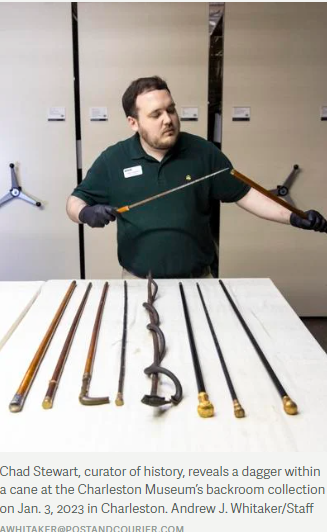 Like the Carolina parakeets and pileated woodpeckers, mummified and kept safe in a drawer of the storeroom.
Like the gull eggs, painted porcelain, Edgefield pottery, 18th century undergarments and big rabbit costume, all of which tell us something of life in the Lowcountry of yore — which, in turn, tells us something about life in the Lowcountry today.
That's what history is for: to answer that age-old question, "How did we get here?"
The cow horns, musket balls, prehistoric shark teeth, curtain rings, old furniture, Colonial currency and pocket watches hold the answer.
Now The Charleston Museum is planning for 2024, when it will introduce a new permanent collection of post-Civil War objects. The goal is to add a new narrative to the displays, telling the story of Reconstruction, Jim Crow and the civil rights movement.
A 12-foot-long church pew made by enslaved people and used in an Edisto Island sanctuary in the decades after the war will be among the items included in the new gallery.
A red shirt worn by white supremacist and militiaman Josiah McKie also will be included. McKie participated in the 1876 Hamburg Massacre, a violent attack on the majority-Black town in Edgefield County orchestrated by Whites (including future South Carolina Gov. Ben Tillman) who were opposed to the Reconstruction government.
McCormick said she is actively soliciting donated items associated with the period starting in 1865 and ending in 1970.
"We're going to tell the full story no matter what," she said. "The objects are what make things come alive for people. When you see an object that was part of something, that's what is incredible."
The collection, which has about 2.4 million items today, is getting bigger.
There's always more history to tell.
–postandcourier.com