SOMEWHERE IN THE U.S. SOUTH — It was a choice to melt down Robert E. Lee. But it would have been a choice to keep him intact, too.
So the statue of the Confederate general that once stood in Charlottesville — the one that prompted the deadly Unite the Right rally in 2017 — was now being cut into fragments and dropped into a furnace, dissolving into a sludge of glowing bronze.
Six years ago, groups with ties to the Confederacy had sued to stop the monument from being taken down. Torch-bearing white nationalists descended on the Virginia college town to protest its removal, and one man drove his car through a crowd of counterprotesters, killing 32-year-old Heather Heyer and injuring 35 others.
The statue's defenders more recently sought to block the city from handing Lee over to Charlottesville's Black history museum, which proposed a plan to repurpose the metal. In a lawsuit, those plaintiffs suggested the century-old monument should remain intact or be turned into Civil War-style cannons.
But on Saturday the museum went ahead with its plan in secret at this small Southern foundry outside Virginia, in a town and state The Washington Post agreed not to name because of participants' fears of violence.
"Well, they can't put Humpty Dumpty back together again," said Andrea Douglas, the museum's executive director, as she watched pieces of oxidized metal descend into the furnace. "There will be no tape for that."
"No cannons," added Jalane Schmidt, a University of Virginia religious studies professor standing beside her.
Swords Into Plowshares, a project led by the two women, will turn bronze ingots made from molten Lee into a new piece of public artwork to be displayed in Charlottesville. They made arrangements for Lee to be melted down while they started collecting ideas from city residents for that new sculpture."
Given past threats to the project and worries about legal action, Douglas, Schmidt and other organizers who traveled to this foundry in the American South took great pains to keep this part of the process under wraps. Only a few dozen people, including some who had housed or transported the dismembered figure of Lee, were invited to watch alongside them in secret. They announced the feat at a news conference Thursday afternoon in Charlottesville.
As dozens of Confederate monuments have been toppled around the country, most others have been left to sit in storage or put up on Civil War battlefields that venerate the Lost Cause. A few have been exhibited in museums, where historians can add necessary context. But this might be the first Confederate monument to be melted, and each person witnessing the scene on Saturday had a different view of what it meant.
Some said the statue was being destroyed. Others called it a restoration. Depending on whom you asked, the bronze was being reclaimed, disrupted, or redeemed to a higher purpose. It was a grim act of justice and a celebration all in one.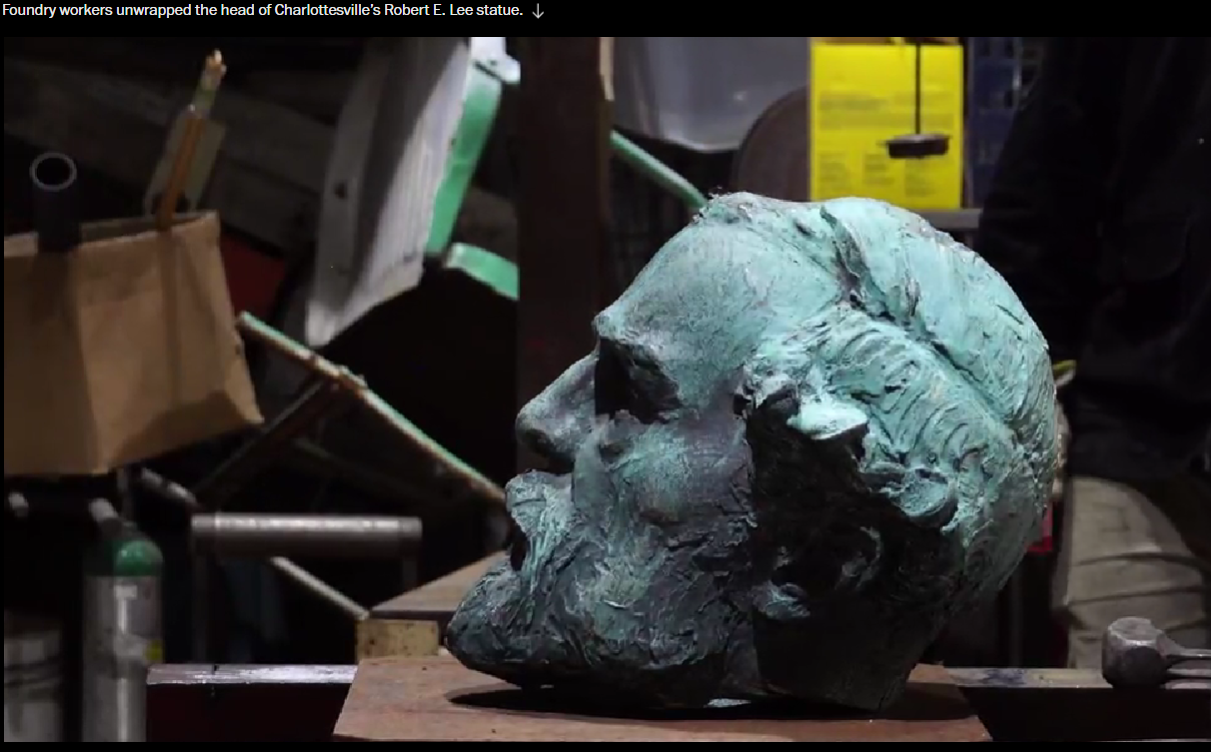 (Hadley Green/The Washington Post)
Schmidt, who directs the 
Memory Project
 at U-Va.'s Karsh Institute of Democracy, said she felt like she was preparing for an execution of sorts — "like if there's a rabid dog in the neighborhood that's been hurting people, and it needs to be euthanized," she said.
Still, that dark feeling was better than carting Charlottesville's "white supremacist toxic waste" away to some other community. The statue would still be taking up space. Someone would still be paying for it to stand there.
"We are taking the moral risk associated with melting it down," she added, "in the hope of creating something new."
After the city took the statue down in July 2021, officials left it in a bus depot until voting to hand it over to the Jefferson School African American Heritage Center. In the two years since, the museum was forced to relocate Lee "on more than one occasion" because of safety concerns, Douglas said.
That happened under sometimes-urgent deadlines, amid security concerns and the logistical challenges of handling about 6,000 pounds of bronze. The metal requires a forklift to be moved even just a few yards, much less out of Virginia.
After the museum received the statue from the city but before it reached the foundry, Lee was cut down into nine pieces — although museum leaders declined to say where or when. The general's head was removed from his body and his horse, Traveller, but it needed to be broken down further to fit into the small furnace here.
With a flash of bluish-white light and orange sparks, a trio of foundry workers carved seven long gashes into Lee's severed head.
"It's a better sculpture right now than it's ever been," said one of the metal-casters, who along with other foundry workers spoke to The Post on the condition of anonymity because of concerns about potential retaliation. "We're taking away what it meant for some people and transforming it."
All of this could have happened as early as January 2022. But once the lawsuit was filed to block the meltdown, the museum waited until a judge agreed to dismiss the case. A 30-day window for plaintiffs to appeal that decision expired Thursday afternoon.
The general's head was hollow, save for a few traces of wax mold and some dirt and rust buildup inside.
"I hope it doesn't convey a message of hate on hate. It's not that," one of the foundrymen said. Below his face shield, he wore a black "Don't Tread on Me" cap.
The foundry workers put the statue fragments into a metal cage, covered them in a blanket and then used a forklift to move them from the indoor workshop to the yard outside, where the small crowd started filling in to watch the action.
Douglas paid tribute to the nearly 15,000 enslaved people who lived in Charlottesville at the start of the Civil War and made up a majority of the town's population. Schmidt spoke about the "moral risk" of keeping Confederate statues intact.
The Rev. Isaac Collins, a United Methodist minister who at one point helped transport the broken-apart statue, followed with a sermon over the jet-engine whir of the furnace. He and Schmidt had organized Bible studies suggesting that celebrating the Lost Cause through public statues was a sin, and he made a similar case as he cited Bible verses and told of Charlottesville's history of cross-burnings and Jim Crow.
"There's a different story about the South to be told, and to do that, we have to get rid of all these myths," he told the group.
A tank of propane gas mixed with forced air from a blower to reach a scalding 2,250 degrees Fahrenheit in the furnace. Working in batches, the foundry workers put fragments of the Lee statue on top of the equipment to preheat them and remove any moisture.
One of them compared the process of melting bronze to cooking: Any water can cause a small explosion, and you don't want hot metal bursting out of the machine. But the preheating was not a bad excuse to add some dramatic flair, as they set up the glow of the fire to reflect off the inside of Lee's cracked, severed face.
In the five-year debate over whether it could be toppled, the monument had been "patrolled" by armed vigilante groups and vandalized with paint and graffiti by protesters. Residents fought over whether it should be shrouded in black cloth, and politicians on the campaign trail cited the statue as a symbol of either heritage or hatred.
In some ways, organizers said, that history only made this haunted spectacle feel more real. "Oh, my gosh. It's like a Halloween movie back here," Schmidt said as she walked around to view the face from the back. "That is creepy."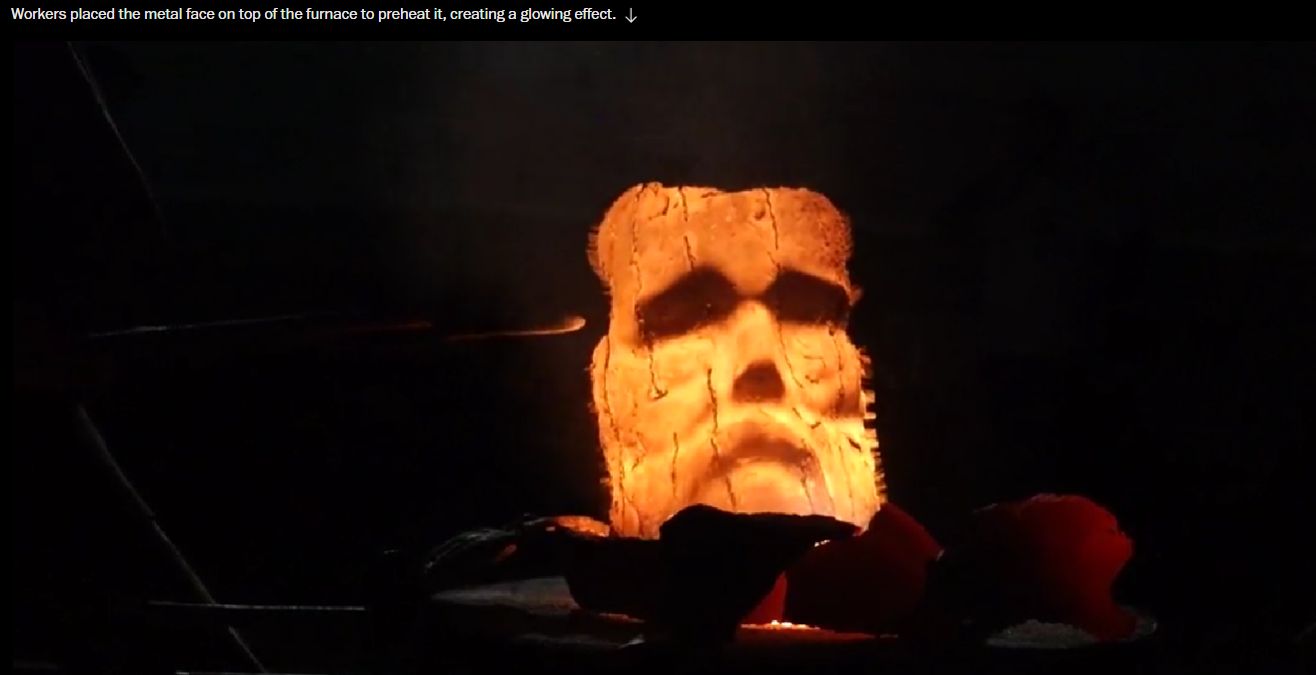 Finding a foundry to take on a project like this one was hardly an easy task. Plenty of people said no. But the owner of this foundry, a Black man, said he didn't feel like he had a choice.
"The risk is being targeted by people of hate, having my business damaged, having threats to family and friends," he said. Yet, "when you are approached with such an honor, especially to destroy hate, you have to do it."
To him, melting the statue down meant the trauma will be gone when Black people pass squares where Confederate statues once stood. "It is time to dismantle this hate, this infection that has plagued our beautiful country," he said. "It is time to rid these icons of hate."
Hours later into the night, he and another metal-caster used a set of lifting tongs to pick up the crucible, a ceramic container that holds the bronze inside the furnace. They used a new one to avoid contaminating the metal with other materials. The crowd gathered to watch, oohing and aahing at the glowing barrel as it was lifted up.
If you took away the off-duty police officers brought on to guard the property, or the plastic tarp hiding it all from the street, it all started to feel something like a backyard bonfire.
There were toddlers eating pizza, parents in "Swords Into Plowshares" shirts sitting on lawn chairs, and old friends sipping from paper cups filled with champagne and bourbon. Some were reuniting after previously helping with the project, and many brought their families along to witness this small moment in history.
All of them, though, had been instructed to disable the location on their phones. Charlottesville activists have faced online attacks and had tiki torches planted in their front yards, and the organizers didn't want a repeat incident here.
The furnace was hot enough that it should have easily turned the bronze into liquid. But the molten metal got thick and clumpy unusually fast, and the workers wondered whether there was something else — maybe some tin or lead? — corrupting the century-old material.
The metal had been cast while Charlottesville and the South were ruled by segregation and dedicated days after the Ku Klux Klan marched through town. Philanthropist Paul G. McIntire, whose prosperous enslaver father had been financially crippled by the Civil War, commissioned and donated the monument to the city.
"This metal has a lot of bad juju stuck in it," the foundry owner said, studying the lumpy bronze. "It's cursed."
After the molds cooled, the foundry workers flipped them onto a pool of sand and banged on them so the ingots would fall out. They were streaked in different shades of brown, some of the engravings a little hard to see.
To Schmidt, it did not seem to particularly matter. The ingots were something to work with — something that took up a different kind of space in the world — and could allow them to imagine what form the metal might take on next.
This was merely the "end of the middle." They had already faced lawsuits and protests, fought neo-Nazis and monument defenders, fended off attacks and worked in secret to get the bronze to this state. Now came the very public process of taking something ugly and making something beautiful: picking an artist, meeting with residents and imagining what might happen next.
"This is a relief," she sighed. "This feels good to have material created. … It's got to go forward."