SOUTH CAROLINA: Hilton Head Tycoon Finishes Civil War Movie About Sherman's March
Walter Czura has led an interesting life.
Born in Augusta, Georgia, he went to law school and was licensed in South Carolina. But in the '80s, he was caught up in Operation Jackpot, an FBI investigation into an $850 million marijuana smuggling ring on Hilton Head that ended with the arrest of more than 200 "gentleman smugglers" and launched the career of then-U.S. Attorney Henry McMaster. In 1982, Czura pled guilty to conspiracy to import over 1,000 pounds of marijuana and was eventually disbarred; he appealed the decision to the state Supreme Court in 1985 and lost.
So the former lawyer went into the billboard business, founding Marlin Outdoor Advertising. In the last four decades he's put up more than a thousand billboards across South Carolina and Georgia, running campaigns for RBC Heritage Presented by Boeing, Cracker Barrel, Hilton Head Boathouse and McDonald's.
But behind the big moves there was always a constant: writing. When Czura was fresh out of law school and taking delivery jobs in the Caribbean, he wrote a novel revolving around environmental sabotage and sold a pilot to a TV channel. "A lot of lawyers become writers," he said, pointing to John Grisham and David Baldacci as examples. "It was natural."
In 2017, he pitched a screenplay to a Hollywood actor and producer. It was accepted by an independent film distributor, but they pulled out as production was about to start, Czura said. So for his next project, a film about Union General William Sherman's bloody "march to the sea" from Atlanta to Savannah in 1864, he decided to go fully independent. He hired Christopher Forbes, another Augusta native who's made more than 30 films, several of them Civil War movies.
"Something like Sherman — I mean, good lord," Czura said of picking the subject of the film. "You know about him. It is so geographically and culturally relevant. You're talking 62,000 troops from Atlanta to Savannah 60 miles wide, the largest military campaign in American history, you're fighting your fellow Americans. He had more soldiers than Julius Caesar."
Czura didn't want to make the film a documentary — "I don't want to be Ken Burns," he said. Instead, he focused on specific moments within the campaign, including a massacre at Ebenezer Creek when Union soldiers pulled up a bridge behind them, leaving nearly 100 freedmen following the army to drown crossing the creek or be captured by Confederate troops.
Czura helped conduct research for the film, titled "Sherman's March to the Sea," and served as its executive producer. He co-wrote the script with Forbes, the director.
They began shooting in February 2021, leaning on Forbes' longstanding relationships with Civil War reenactors to film big battle scenes. They traveled to the 27th annual Battle of Aiken reenactment and recruited Hampton County reenactors to the movie, acting alongside Jezibell Anat, Charles Gabel and Dakare Chatman, among others.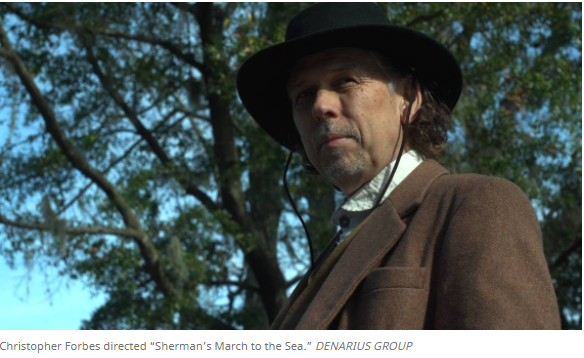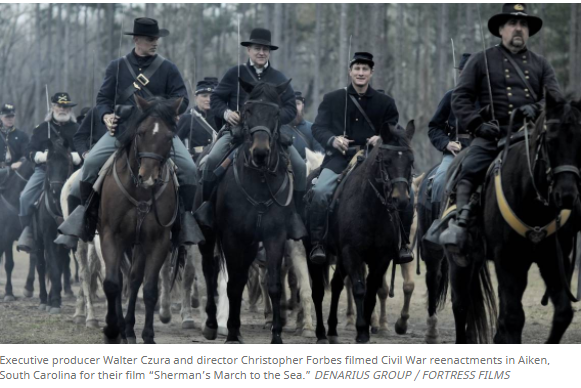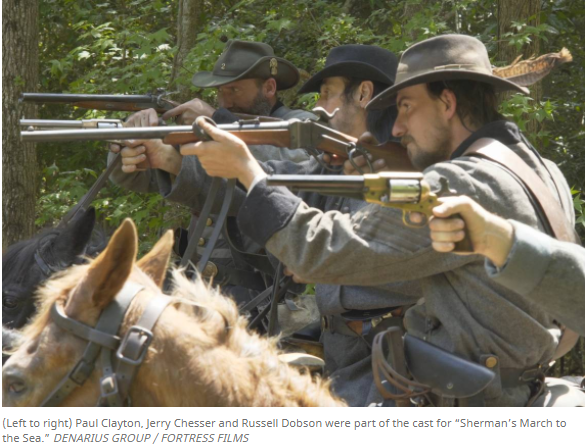 Forbes premiered the 92-minute, $1.25 million budget movie at Augusta's 2022 Poison Peach Film Festival earlier this month. Czura said it was "surreal" to return to his hometown theater after 50 years and see people pay to watch his movie. Right now, there's not a way for audiences to watch "Sherman's March to the Sea." Czura is hammering out a streaming and DVD distribution deal for the movie. He's also working on a new project: A movie about Operation Jackpot, which he hopes to get a larger budget and cast for.
"Fortune does favor the bold," he said. "Basically, I'm of an optimistic point of view."
–islandpacket.com