SOUTH CAROLINA: WW2 Veteran's Remains Identified By Federal Agency After 79 Years
COLUMBIA — Nearly 80 years after he went missing in action, the remains of a Columbia native airman who served during World War II have been identified.
Army Air Forces Tech. Sgt. Ralph Richardson was 21 in August 1943, when his plane was shot down during a bombing mission over oil fields in Romania, according to the federal Defense POW/MIA Accounting Agency.
Through DNA, Richardson's remains were identified in September, after which the DPAA notified his next of kin. So far no members of his family have issued any public statements. The agency encourages family members and those who knew Richardson to contact the Army Casualty Office for funeral information.
Richardson's unidentified remains were buried along with 80 other "unknowns" in a U.S. cemetery in Belgium after the war, where they rested until 2017 when the DPAA exhumed all the unknown remains and moved them to Nebraska's Offutt Air Force Base for examination.
Richardson's remains were identified using mitochondrial and Y chromosome DNA, circumstantial evidence and anthropological analysis with help from the Armed Forces Medical Examiner System, the DPAA said in a statement. This means that DNA found in the remains were traced back through Richardson's parents' respective ancestral lines, similar to the more commonly taken ancestry DNA tests.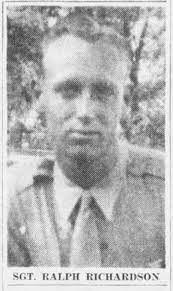 This kind of DNA testing is used to analyze samples such as old bones, teeth and hair, according to the National Library of Medicine, for forensic purposes typically, but also to identify missing persons.
"More than 81,500 Americans remain missing from WWII, the Korean War, the Vietnam War, the Cold War and the Gulf Wars," a spokesman for the DPAA said Jan. 3. "Our research and operational missions include coordination with hundreds of countries and municipalities around the world."
More than 2,000 soldiers from the United States still remain unaccounted for. But since the project began applying modern identification techniques in 2017, nearly 1,000 Americans killed in World War II have been identified, returned to their families and buried with full military honors. Richardson is the eighth from South Carolina and the second from Columbia.
The plane Richardson flew, a B-24 Liberator bomber, was one of 51 planes never to return from the 1943 mission titled Operation TIDAL WAVE. After taking off from Benghazi, Libya, Richardson served in "the largest bombing mission against the oil fields and refineries at Ploiesti, north of Bucharest, Romania," according to the DPAA.
The oilfields were a crucial strategic target for the Allies, since they fueled the German war machine. However, the operation cost hundreds of airmen, including Richardson, their lives.
Personnel records show that Richardson served in the 329th Bombardment Squadron and 93rd Bombardment Group in the 9th Air Force. News media from the presumed time of his death said he was a graduate of University High School, now Wardlaw College on the University of South Carolina campus.
Richardson's name is also recorded on the Tablets of the Missing at the Florence American Cemetery, an American Battle Monuments Commission site in Italy, according to the DPAA, and a rosette will be placed next to his name to show that he's been accounted for.
Richardson will be buried in Columbia, the DPAA said. A date is yet to be determined, but the ceremony will likely be at Fort Jackson National Cemetery.
When the American Graves Registration Command began exhuming the unknown remains in Belgium in 2017, another Columbia native was accounted for. Second Lt. William Harth, who was believed to have been on the same bomber plane with Richardson before it was hit by an enemy aircraft and crashed, were accounted for in November 2017.
Harth, a University of South Carolina graduate, was buried at Fort Jackson National Cemetery in April 2018.
A Distinguished Flying Cross award was presented to Richardson's and Harth's parents in the 1940s, around the time they were reported missing in action.
The exhumation started by the DPAA in 2017 is ongoing.
"DPAA is grateful to the American Battle Monuments Commission and to the U.S. Army Regional Mortuary-Europe/Africa for their partnership in this mission," the federal agency said in a Dec. 16 statement.
—postandcourier.com