MISSISSIPPI: Living Civil War History Program Showed History of African-American Union Fighters
NATCHEZ, Miss. — The Black and Blue Civil War Living History returned Saturday to share the history of African-American Union fighters.
The Friends of the Forks of Roads Society's (FRSI)  presented the annual event at the Historic Jefferson College, located at 16 Old North St.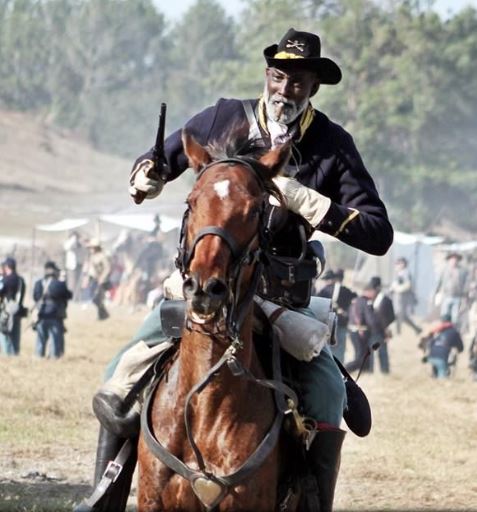 Ser Seshs Ab Heter-C.M. Boxley, event organizer, said the history is shared through costumed reenactments that are based on information from official Civil War Union Army reports. Boxley said the reenactments depict an overlooked piece of history that tells how enslaved African-Americans emancipated themselves by helping the Union Army win the Civil War.
"That history has been omitted, erased, left out of the narrative for the Civil War and history," Boxley said. "It eliminates our fore-parents who were enslaved. It eliminates their efforts to self-emancipate. It leaves the narrative about some great white emancipator freeing them, and that is not true."
This year's featured reenactment portrayed the Third U.S. Colored Cavalry and its role in preventing Confederate President Jefferson Davis and 500 cavalrymen in their attempt to escape across the Mississippi River at the end of the war.
The Third U. S. Colored Cavalry re-enactors from Florida presented the reenactment at 1:30 p.m.
At 10 a.m., a forum discussed the lack of African-American Civil War troops' history in state museums of history and civil rights.
Special guests at the event included descendants of Mary Thompson, of Jefferson County, who was born on a slave ship in 1804. Also present will be Deborah Fountain, author of the forthcoming book "Nine at Natchez: The Remarkable True Story of Nine Former Slaves from One Family Who Became Civil War Solders."
Others appearing were genealogist Antoinette Harrell, producer of a "Devil's Punch Bowl" documentary; Gaynell Brady, owner of Mammy's; Artemus W. Gaye, the seventh generation grandson of Prince Abduhl Rahman Ibrahima Sori and Isabella, who were enslaved for 40 years near Natchez; and the Third Eye Express Drummers from Jackson.
Also, at 9:30 a.m. the Black Horse Cavalry, wearing replica Civil War uniforms, rode horseback through downtown Natchez. Adams County Sheriff Travis Patten will lead the procession. The ride will begin at Martin Luther King and B streets and will travel along Main Street to Broadway Street. They will end at North Broadway Park.
Cavalry members also displayed weapon handling with Civil War-era sabers, and children can meet the riders and have photographs taken.
–natchezdemocrat.com
###