NORTH CAROLINA: Confederate Monument Removed From Downtown Pittsboro
PITTSBORO, N.C. — The Confederate monument outside the Chatham County courthouse was taken down overnight, with crews removing the base early Wednesday.
About 50 people who supported and opposed the monument gathered in downtown Pittsboro as the work began Tuesday night. The statue was taken off its base around 2 a.m. Wednesday, and the base was removed around 5:30 a.m.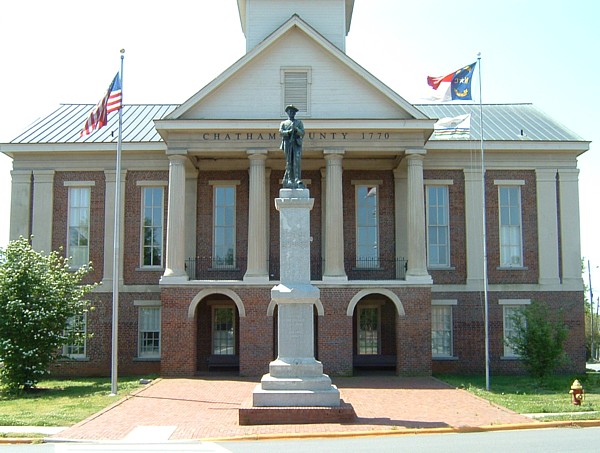 The monument sparked frequent protests ever since the county board of commissioners voted in August to remove it.
"It's heartbreaking," Robert Butler, a supporter of the monument, said as crews worked overnight. "A statue's never hurt a soul, just like a grave memorial. Do they hurt anybody?"
Anderson Ritter disagreed.
"It represents stuff that never really should have happened, and it kind of memorializes and makes it seem good," Ritter said. "I and other people don't agree with that."
A poll by Elon University found that most North Carolina residents think Confederate monuments should stay on public property. Of the respondents, 65% said the monuments should stay on public property, while 35% said they should be removed.
Chatham County spokeswoman Kara Lusk Dudley said Tuesday night that crews were working to "safely and respectfully dismantle the Confederate monument, which includes the statue and pedestal."
The statue and pedestal were to be taken to a "safe location" for storage until the Winnie Davis Chapter of the United Daughters of the Confederacy found a location for them, she said.
County Manager Dan LaMontagne said the monument is being held at a third-party storage facility, which costs the county money.
The United Daughters of the Confederacy donated the statue in 1907, and it has stood outside the county courthouse since.
A Superior Court judge last week denied an injunction that the United Daughters of the Confederacy wanted to keep a Civil War monument outside the courthouse.
After the ruling, a Chatham County commissioner said officials would proceed "with reasonable haste" to remove the monument.
–wral.com