SOUTH CAROLINA: Kershaw County Hosts Nation's Largest Revolutionary War Re-Enactment
Hundreds of spectators of all ages braved the chilly fall rain for a chance to transport themselves back in time as Revolutionary War reenactors demonstrated how American and British soldiers of the era lived their lives.
Dense military encampments, soldiers (some on horseback), drummers, merchants and craftsmen lined the sprawling grassy fields enclosed by pine forests at 1208 Keys Lane in unincorporated Kershaw County, roughly an hour's drive northeast of Columbia.
Lasting for two-and-a-half days, the annual event is touted as the nation's largest Revolutionary War reenactment, according to the nonprofit Southern Campaign 1780, which focuses on educating people about the South's role in the American Revolution.
One man tinkered away at a smithing table. Another man practiced swordsmanship and explained the evolution of the weapon over time. Two women taught a ropemaking course. A small child in 18th century garb helped her mother make breakfast on an open fire.
Between more than 40 on-going demonstrations — among them artillery, calvary, blacksmithing, woodworking, weaving and 18th century cooking — volunteers reenacted two major battles that took place in South Carolina: the Battle of Stono Ferry and the Battle of Camden.Volunteers explained that the Stono Ferry battle in 1779 in the Lowcountry, though not one of the major battles like in Camden or Cowpens, was significant as one of many smaller victories that would pile up and wear the British down.
"The American Revolution was won in the South," a volunteer on horseback said, acknowledging that the Nov. 12 Battle of Camden reenactment would demonstrate a loss for the Americans, and a brutal one at that.
James Legg, an archaeologist who led the Battle of Camden Archaeological Project, said in April that Camden was "one of the worst American defeats of the Revolutionary War." Between 300 and 400 Americans were killed.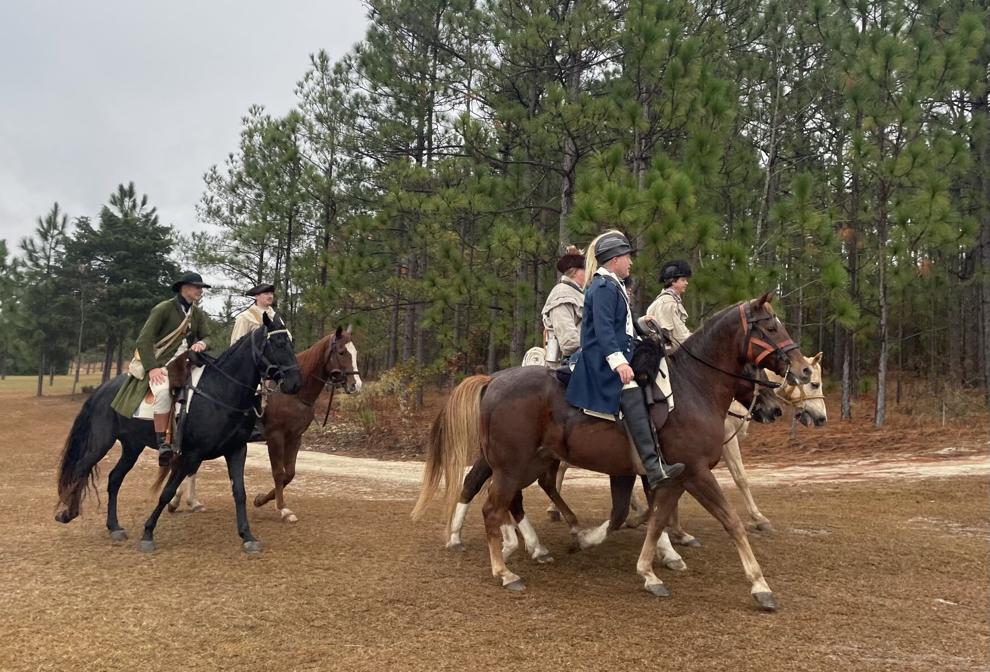 The reenactment came to the Midlands a little more than a month after the actual site of Stono Ferry was secured and protected for public access, and it came about six months after 14 soldiers who died on Camden Battlefield in 1780 received a military funeral and recognition.
Southern Campaign 1780 Chairman Tray Dunaway said the reenactment is a 53-year-old tradition, but secured Kershaw as its premier spot in 2020. The exact acreage of the space was not specified, but "void of modern intrusions" according to Dunaway, it's been recognized by top Revolutionary War reenactors, the British Brigade and The Continental Line.
The nonprofit organization uses proceeds from the reenactment to fund its year-round Liberty Live educational programs, Dunaway said. It also sponsors a free, yearly Education Day for 2,500 people on the Friday before the reenactments.
Gates for this year's event open at 10 a.m. The event ran until 5 p.m. on Nov. 11 and will run until 3 p.m. Nov. 12. Admission is $15 for adults; $10 for military and first responders; $5 for children aged 6-16; and free for children aged 5 or under. A schedule of events and additional information can be found at SouthernCampaign1780.org.
"We homeschool, and so this is an educational opportunity and a chance for the children to experience some authentic history," said David Morgan, a father of five who brought his children and their grandparents to the event on Nov. 11, Veteran's Day.
–postandcourier.com