GEORGIA: Historian Traces Black Civil War History In Northwest Georgia
If you have seen the Oscar-winning 1989 film "Glory" then you are familiar with the 54th Massachusetts Volunteer Infantry, the first all-African American regiment in the United States.
What you may not know of is the tie that Rome has to its founder, Maj. Gen. George Luther Stearns, and to another regiment that he established — the 44th United States Colored Infantry.
For three months during the Civil War, Rome was a home base for this regiment of Black Union troops for the recruitment of runaway slaves.
Roman Ishmael Williams is researching the history of the 44th USCI in hopes of shedding light on the regiment's forgotten legacy.
"The people of Floyd County and Northwest Georgia do not know Stearns' story or that of all of the runaway slaves who risked all to fight for their freedom," he said.
Williams has been an avid researcher of the Civil War since childhood.
"As a kid I read all about the Civil War — every book I could find," he said.
He went on to earn degrees in Biology and Anthropology. With a background that spans decades as a professional archaeologist, research analyst and database developer, Williams is an expert in field studies, mapping, modeling, topography, geography, and genealogy.
During his career, he worked with organizations such as the U.S. Army Corps of Engineers, the Texas Nature Conservancy and the Centers for Disease Control and Prevention, just to name a few.
For Williams, location had a lot to do with how he got started on research into the 44th USCI.
"I was searching for information on Simpson Fouche, who was a prominent politician and educator and wrote for a while for the Rome Courier in the mid-19th century," he said. "I grew up in Texas Valley on Fouche Gap Road, on a 10-acre plot that was once part of the much larger several hundred acre Fouche Plantation."
Williams stumbled across some records about Andrew Fouche, one of Fouche's slaves, who went by the name Andrew Jackson after emancipation.
"I was floored by the story that his pension told," Williams said. "He ran away from Texas Valley and joined the 44th U.S. Colored Infantry in August 1864. He was captured at Dalton and was forced to do hard manual labor, usually railroad labor, for the Confederate Army and suffered greatly."
Following the trail
Stearns was a successful Massachusetts merchant who personally financed a lot of the work he did on behalf of the abolitionist movement. Stearns settled the Underground Railroad station in his hometown of Medford, Massachusetts, and was one of the founders of the Freedmen's Bureau — which started in 1865 with Union Army Gen. Oliver Otis Howard (founder and president of Howard University) serving as commissioner and head.
On April 7, 1864, Stearns established the 44th USCI in Chattanooga, Tennessee, and delegated Lt. Col. Thomas Jefferson Morgan as the organizing officer.
Black Union soldiers were often denied the opportunity to serve in battle, limited to labor intensive roles, but Morgan believed that every man should have the right to fight on the field. He convinced Gen. George G. Thomas, a Southern Unionist from Virginia, to allow Black troops to see battle.
A minimum of 800 men was needed to satisfy regiment requirements. Part of the 44th's recruitment process was carried out in Rome from July through September 1864, via wagon trains that covered the area to rescue runaway slaves.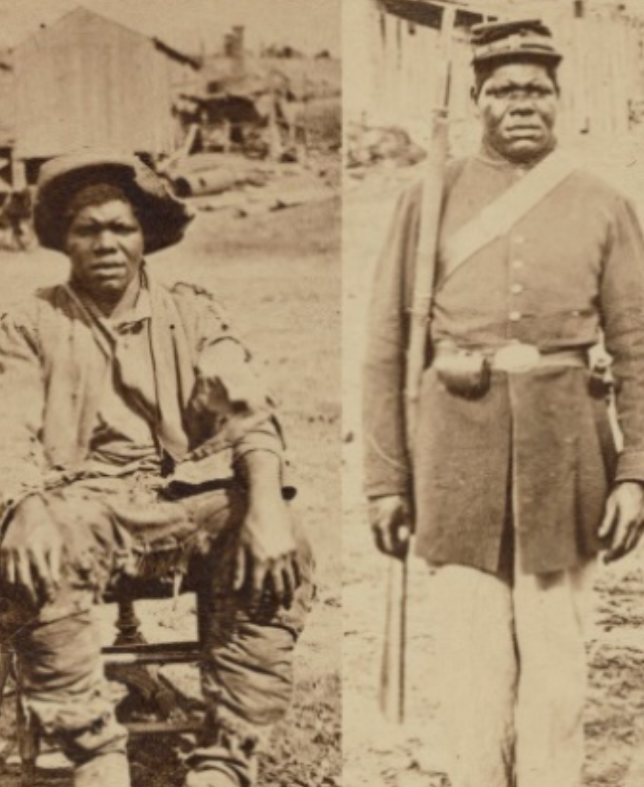 Andrew Jackson Fouche of Fouche Plantation and Thomas Freeman of Freeman Plantation were both local recruits to the 44th who came from the Texas Valley District in Rome.
On the first day of enlistment, Hubbard Pryor arrived in Chattanooga and joined the 44th. He had escaped a Polk County plantation owned by Haden Pryor, "one of the largest slave owners in Georgia."
With regiment numbers quickly satisfied, the 44th was established as the Union garrison in Dalton, at Fort Hill, with Col. Lewis Johnson as commander. Their orders were to defend the vital rail junction and supply lines.
When Gen. Joseph Wheeler's Confederate cavalry attacked Fort Hill in August 1864, he was defeated by the men of the 44th with the help of Lt. Col. Morgan, who came in from Chattanooga to aid the regiment. Though the regiment was outnumbered five to one, Johnson would not surrender his men. The 44th more than proved their worth as equal soldiers on the battlefield.
Their next challenge would be facing off with Gen. John Bell Hood and his 20,000 troops of the Confederate Army of Tennessee.
Hood's Tennessee campaign, which Maj. Gen. Nathaniel Bedford Forrest served under, worked to disrupt Sherman's communications and destroy the railroad that supplied his army. Hood's army would pass through Rome, crossing the Coosa River en route to Dalton.
Though the 44th fought dutifully, they were severely outnumbered. Hood demanded that Johnson "choose death or surrender." Knowing that surrender meant eventual parole for all of his white officers, Johnson insisted that his Black troops and white troops should remain together. He hoped that his Black soldiers would be treated as POWs and not slaves, but to no avail.
"When the time came to surrender, to the disgust of the Confederate guards, the officers and Black troops of the 44th shed tears while wishing each other well, shaking hands, and hugging each other goodbye," Williams said.
Following the surrender of the 44th, Black soldiers were stripped of their clothing and lined up to be reclaimed by slaveholders they had previously escaped. They were put to work disassembling train tracks in deplorable conditions. Men who were too weak to do so were shot on site.
They were marched 10 miles to Villanow, where they were placed in slave pens. Those who were not claimed by their owners were taken to Alabama with Hood's army to continue hard labor.
Following their fates
Williams said he was shocked to learn the fate of the 44th USCI after their encounter with Hood at Dalton.
"About 250 men were returned to their masters while another 350 men not reclaimed were kept by the Army. They were on a starvation diet and by the end of the year only about one-third were still alive," he said.
During this time, Andrew Jackson Fouche of Texas Valley was injured doing railroad labor. He was also shot while attempting to escape, but miraculously survived.
Fouche made the 200-mile trek with Hood's army from Dalton to Decatur, Alabama, with other prisoners and worked five more months for the Confederacy. He was near death when left at his owner's plantation in Thomas County, where Simpson Fouche had fled to avoid Union armies, and suffered from his railroad injury for the remainder of his life. He married another of Fouche's slaves after they were emancipated.
Near the end of his life, he returned to Rome for a little over a decade before settling in Hill City in Chattanooga — a Black owned community built on the site of an old slave refugee camp and founded by USCI veterans and other refugees.
Thomas Freeman of Texas Valley was a Confederate prisoner until late April 1865, but had become gravely ill with measles and was unable to continue hard labor.
Guards were executing wounded and sick prisoners just released from the hospital who were unable to keep up on the march. Freeman was able to escape that fate and was eventually claimed by his former owner, John R. Freeman. Thomas spent months regaining his health and was reunited with his wife, with whom he went on to have 12 children.
He spent the last few decades of his life living on the south side of Lavender Mountain — now part of the Berry College campus — where he died in 1893.
Hubbard Pryor spent the rest of the war as a laborer for the Confederate Army, mainly forced to work the railroads. He was shipped to Griffin with other Black prisoners "abandoned, emaciated, diseased, and debilitated from their ordeal." He eventually made his way back to Cedartown, married a former slave, and started a family.
Sadly, Pryor was unable to apply for his pension before dying in Texas in 1890.
Remarkably, the siege at Dalton would not be the end of the 44th USCI. Johnson would rebuild the regiment. The newly formed 44th joined other Black Union regiments and would play an integral role in cutting off Hood's army in Nashville. During their journey to Nashville, the regiment was successful in defeating an ambush when Gen. Forrest's troops attacked their train.
Williams has referenced multiple sources during his research — including Berry College's research into Freeman Town — but says he is especially indebted to the work of Robert Scott Davis, director of the Family and Regional History Program at Wallace State College in Hanceville, Alabama.
Williams hopes to leave a database as a resource for others.
"I have been researching the official regimental muster role of the 44th USCT (United States Colored Troops) and decided to embark on a quest to record every soldier's name and service record and compile it into a usable form," he said. "Eventually, I want to make this available for the public to look up info on their ancestors."
For Williams, getting the word out about the 44th regiment and about this part of Rome's legacy is key.
"I think we should honor these men from our own community who suffered and died fighting for our country. Their service to the nation is unmarked in Rome, where the regiment recruited for months," he said. "Pryor, Fouche, Freeman, and many others whose stories have yet to be told, endured incredible hardships in slavery and during captivity but persevered in their quest for freedom."
–northwestgeorgianews.com