FLORIDA: Confederate Flag Foes, Supporters Rally
MELBOURNE — Wielding a bullhorn, United Third Bridge President Samuel Lopez chanted, "No hate! No hate! No hate!" while roughly a dozen Confederate battle-flag protesters marched around him in a circle in the Melbourne City Hall parking lot.
These protesters waved signs depicting images of the flag alongside hooded Ku Klux Klan members, Nazi swastikas and hangman's nooses. Among the sign slogans: "This Flag Represents Pure Hate!" and "Don't Confuse or Ignore the Facts!"
"It's obvious why the flag was used -— to intimidate people. That's what it was used for, to hang people, to intimidate people. Those days are over. Those days are over. We're not going to be subjected to this craziness," Lopez shouted into his bullhorn.
Just a couple parking spaces away, a larger contingent of Confederate supporters waved flags at Strawbridge Avenue traffic, generating honks from passing motorists.
Their signs read "Southern Equality Matters," "Stop the Discrimination Toward American Southerners," and "Political Correctness is Nothing Less than Thought Control," among similar messages.
"We're here to defend ourselves. That is all. They are attacking us. They want our symbols banned, our battle flags. They want to destroy our monuments," said Don Young, Florida Division lieutenant commander of the Sons of Confederate Veterans.
"They want to dig up our dead and spread them in the streets — no, I'm not making that up. Ask anybody in Memphis or in Lexington, Virginia. That's where they're desecrating the graves. And it's on its way here," Young said.
This afternoon, opposing bands of Confederate flag foes and supporters demonstrated side-by-side for about an hour. UTB, a Melbourne-based Hispanic civil rights organization, scheduled the anti-flag rally to protest city sponsorship of events where the battle flag is flown. Flag supporters rallied in response.
Councilwoman Teresa Lopez, who is Samuel's wife, took offense when Confederate Sons Association of Florida Indian River Camp 47 and Sons of Confederate Veterans Camp J.J. Dickison Camp 1387 displayed the flags during the city's annual Fourth of July parade.
After today's rally, Samuel Lopez said the UTB board of directors will meet Saturday to chart a course of action. He said another protest will likely occur. UTB has threatened to organize an economic boycott of Melbourne businesses, rankling some City Council members.
Melbourne resident Brittany Williams, who is black, and her 5-year-old son, Aijalon, a Palm Bay Elementary kindergartner, protested the flag. She said she was inspired to attend after somebody inside a Confederate flag-bearing vehicle shouted the "n-word" racial slur in the Melbourne Square mall parking lot — and Aijalon heard and asked her what it meant.
"They may feel one way about their flag. But we're coming from a history point of view of our ancestors, how they represented it to us back in slavery days. It was about hate. And it was about their power over us," Williams said.
Deyontae Richardson of Palm Bay, who is black, disagreed. The Eastern Florida State College sophomore psychology major wore a Confederate flag like a Superman cape, a Confederate flag T-shirt and a Bass Pro Shops baseball cap.
"It is not a form of hate. It's heritage. I'm what you consider a dark-skinned redneck, a black redneck" Richardson said. "I do it all, from hunt to fish, running around four-wheeling, everything. And I fly the flag proudly because I have Southern pride."
Palm Bay author Augusta Williams, a UTB director and member of the South Brevard branch of the NAACP, recited the poem "All for One and One for All" that he wrote for the occasion. His poem stated that slavery's legacy is still tearing the country apart, and Lady Liberty was stabbed by "a dagger named racism."
"For the blue blood code of oppression, submission and division
Still resides in some of our hearts
And the battle flag of Confederate," Williams' poem read.
Flag supporter Nick Nichols of Melbourne carried a sign detailing the military service of his great-grandfather, Charles Calvin Arrington (1843-1935). He served in the 57th Virginia Infantry and 37th Virginia Cavalry of the Confederate army during the Civil War.
"It's heritage, not hate. That's the flag. And there's my heritage, my great-grandfather — my only one that's from the South," Nichols said.
–FloridaToday
###
GEORGIA: Confederate Flag Staying on License Plates
ATLANTA: Georgia officials will soon roll out a redesigned license plate that still features the Confederate battle flag emblem, months after halting the sales of the state-sponsored specialty tag in the wake of the Charleston church massacre.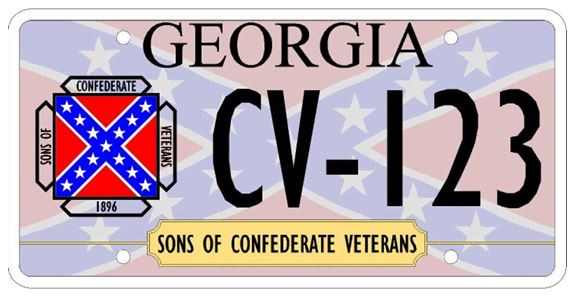 The Department of Revenue and the Georgia chapter of the Sons of Confederate Veterans said this week they reached an agreement on the redesign and that it could be available as early as next week.
A draft of the design wasn't immediately available, but the Confederate group's leaders said it would eliminate the larger image of the Rebel flag that forms the background of the plate while retaining a small, "blood red" version of the emblem in the foreground.
Gov. Nathan Deal ordered a redesign of the license plate in Juneafter nine black worshippers were gunned down by a suspect described by police as a white supremacist. But he stopped short of calling for the Sons of Confederate Veterans tags to be phased out our eliminated entirely, as leaders in North Carolina, Virginia and Tennessee ordered over the summer.
Georgia law for more than a decade has required a "special license plate for the Sons of Confederate Veterans," with the proceeds of the sales going to benefit the group. So far, more than 3,500 motorists have signed up for Georgia's Confederate tag, and the group's leaders said demand has recently surged.
Confederate symbols of all kinds – flags, monuments, statues, license plates, even retail items – have come under unprecedented attack across the South in the months since the Charleston church massacre.
State leaders quietly erased Confederate Memorial Day and Robert E. Lee's birthday from the official Georgia calendar in August. And debate has swirled over other symbols of the Old South, including the faces carved into Stone Mountain, the portraits and sculptures enshrined in the state Capitol and even restaurants that feature the Rebel flag.
More than 4,200 people signed a petition released by Better Georgia, a left-leaning advocacy group, calling for the state to stop selling the plates. Members of the Sons of Confederate Veteranscountered with a membership drive, a lobbying campaign and the threat of legal action.
Here's how Tim Pilgrim, a Sons of Confederate Veterans leader, described the new design:
We did agree to remove the faded background as most of the Camps indicated that they would be willing to do as long as the SCV logo was in its place of prominence on the tag. They also agreed to let us darken the red in the logo to a deeper blood red. We hope to have that completed by the end of this week and our tag will start to be available to our membership and the citizens of Georgia by next week.
–AJC.com
***
FLORIDA: Bill Would Ban Confederate Emblems on State Property
A bill filed in the Senate would ban the display of the Confederate flag or emblem or "any flag or emblem used by the Confederate States of America or its military or naval forces at any time within the years 1860 to 1865″ on property owned or leased by the state.
"In Walton County and many other locations in Florida, officials still fly the Confederate flag proudly" said Thompson, a Democrat who represents Orlando's District 12. In August, the Greater Tallahassee Chamber of Commerce decided not to hold a long scheduled conference in Walton County next year due to the county's failure to remove a Confederate flag from its courthouse.
Thompson said "if enacted, this bill, SB 154,  will require State, county, and local municipalities to remove the flag off their properties, we can't wait on them to make good faith decisions. Thompson's has been assigned four committee stops, A companion bill, HB 243, was filed by Rep. Daryl Rouson, D-St. Petersburg, on Sept. 24. It has no committee assignments yet.
The Confederate flag is still problematic, Senator Thompson said, citing the fact that George Zimmerman recently proposed selling prints of a Confederate flag painting. Allegedly, a percentage of the proceeds will go to the Boys and Girls Club and a Florida gun store owner who is facing a lawsuit after declaring his business "Muslim free". Officials with the Boys and Girls Club say they will accept no funds from Zimmerman.
–palmbeachpost.com
###