Hikers might run across the remnants of an old liquor still in a Lowcountry swamp, an old water wheel built during the Depression in the mountains or the Braille trail next to the S.C. School for the Deaf and Blind in Spartanburg.
They'll trek through Revolutionary War battlefields, tiny towns tucked away off more traveled paths, and across the grounds of the Statehouse, which still bears the scars of shelling from Sherman's troops during the Civil War.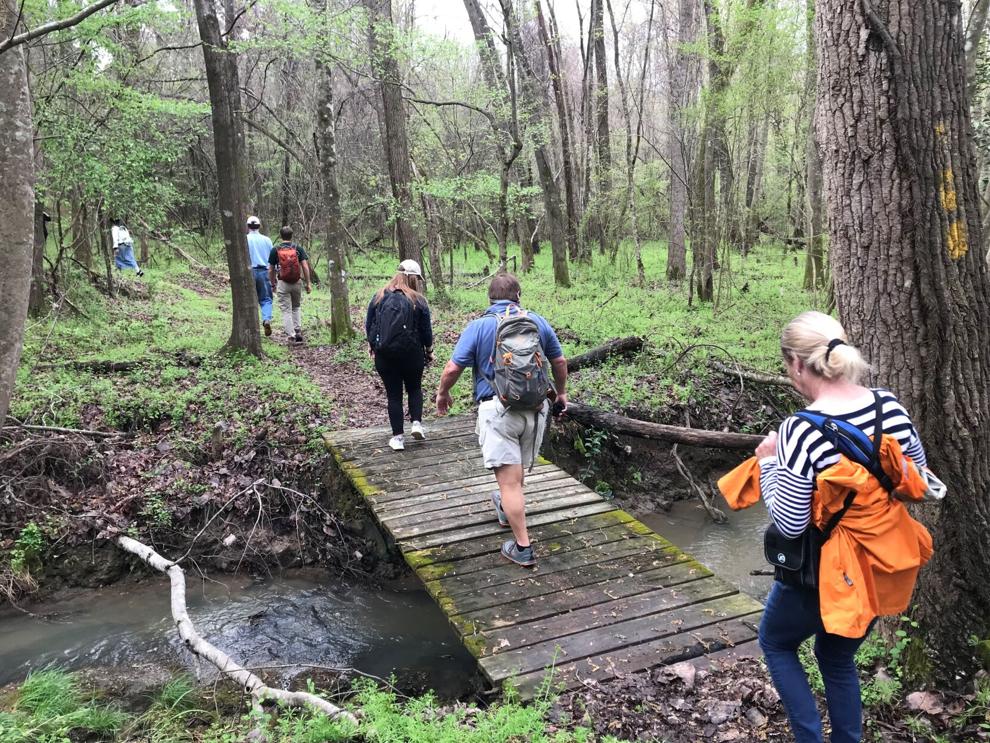 Cascading waterfalls, fields of wildflowers and shady dirt lanes will treat day-trippers out for a leisurely jaunt or backpackers roughing it through the wilderness on longer journeys.
Newly built boardwalks, suspension bridges and old train trestles lead hikers across rock-strewn streams, murky creeks and lazy rivers, all heading east to the Atlantic Ocean.
From within a mile of the highest point in the state of more than 3,550 feet at Sassafras Mountain, accessible via the Foothills Trail, to just a few feet above sea level at the Palmetto Trail's eastern terminus north of Charleston, the ribbon of nature winds around steep gorges, rolling hills and piney flatlands.
But it's not all connected. Hikers can't pass through roughly 120 miles in disjointed sections because of for-now impassable waterways, privately owned strips and government restrictions.
Missing links
At Lake Marion, the old U.S. Highway 301 bridge beside Interstate 95 has been shut down since the solar eclipse in 2017. The state Department of Transportation feared it would attract too many people and deemed it a safety threat.
On the northern edge of Columbia, numerous public and private property owners haven't acquiesced to requests by the trail-parent, Palmetto Conservation Foundation, to allow hikers to pass from Riverfront Park north of U.S. 176 to a Broad River crossing at the small town of Peak about 20 miles upstream.
In Union County, there's no bridge over the Tyger River at the proposed trail crossing. Hikers can't get from the Blackstock Battlefield Passage to the Glenn Springs Passage on the river's northern side without taking a roughly 10-mile detour along roadways, which trail developers try to avoid.
In Croft State Park south of Spartanburg, a 65-foot footbridge over Fairforest Creek washed away a couple of years ago during a flood. Workers soon will replace it with a fiberglass span built higher than before over the rocky stream.
Five sections aren't completed in the mountains, and geopolitics means hikers now have to bypass part of the Fort Jackson Passage in the Midlands after Russia's invasion of Ukraine in February.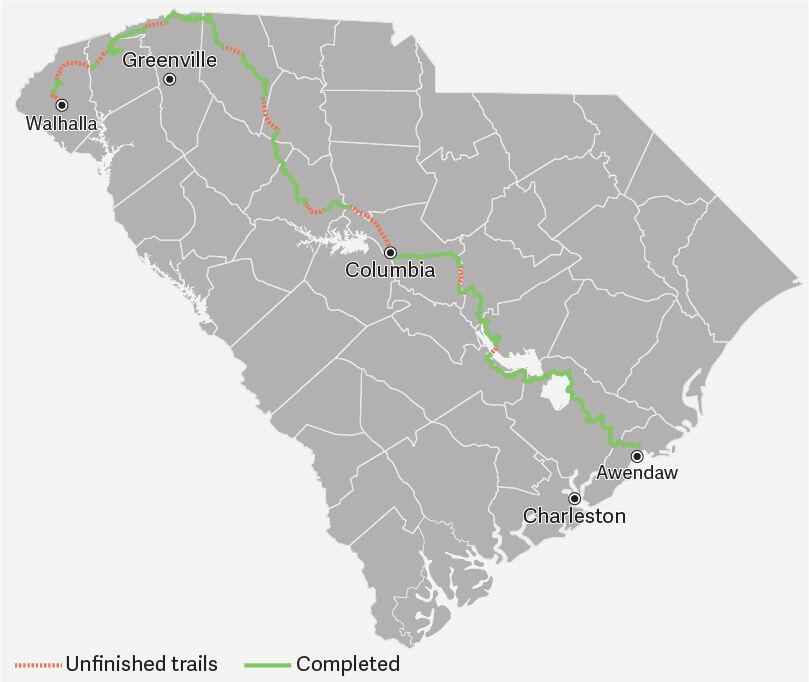 Still, nearly 30 years after a mountains-to-the-sea walking trail was first envisioned, its leaders soldier on.
National Trails Day is June 4, and while people will be outside on the completed sections of the cross-state path enjoying fresh air, sunshine and the great outdoors, barring rain, officials at the Palmetto Conservation Foundation will continue to try to bridge the gaps.
"It's all very doable," said Mary Roe, executive director of the Columbia-based nonprofit group overseeing the trail, its upkeep and its eventual completion. "It just takes time and money."
An act of Congress
As a case in point, shortly after the turn of the century, trail officials were having trouble gaining access to an abandoned railroad trestle in the Wateree River flood plain south of the state capital.
It took an act of Congress to overcome the hurdle.
Outdated laws that remained on the books required that a swing bridge at the site be operational, even though it had not opened since 1913.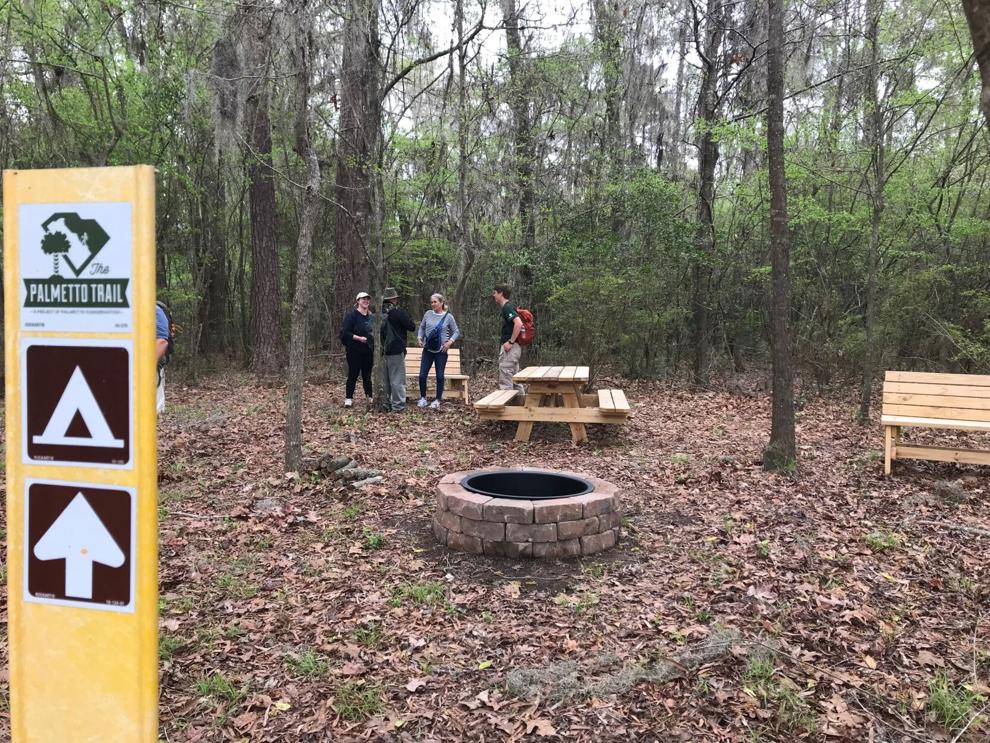 It took a rider in the federal budget, attached by the late Sen. Fritz Hollings of South Carolina, to recognize that the river is unnavigable at the point where the 390-foot-long trestle crosses. The move allowed trail officials to install wooden decking for a trail bed along the old train track.
From the coast to the capital, including the Wateree trestle crossing, the trail's 215 miles in the eastern half of the state are almost completely connected.
A 12.5-mile section south of Fort Jackson is awaiting signatures from property owners to allow hikers to pass through, while the biggest obstacle on the southern half of the statewide trail is the closed bridge across Lake Marion at Santee.
"To our standards, it's walkable," Roe said. "To DOT's standards, it's not. If there are repairs needed, it needs to be done."
One of the foundation's three trail coordinators takes it a step further.
"If we can't get across the lake, that just knocks our whole trail out," Furman Miller, the trail's Midlands coordinator, said.
Coe said the lack of the lake bridge crossing would require a 40-mile reroute of new trail.
A fix in the works
The state Department of Transportation received $1.6 million last fall as part of the funding in the state budget to make the bridge passable for pedestrians and bicyclists, according to Buddy Jennings, a lobbyist for the Palmetto Conservation Foundation.
The work will encompass repairing, replacing and painting railings, fixing cracked decking, removing overgrown vegetation and placing bollards that will restrict motor vehicle access, according to DOT.
"The contract will go out for bids this fall," DOT spokesman Pete Poore said. "We expect to have the repairs completed by the spring of 2023."
Vehicles will not be allowed on the bridge when it reopens.
"We are so close to getting the trail completed all the way from Columbia to Awendaw, and this bridge is very important," Jennings said.
North of Columbia, trail connections hinge on permission from public and private property owners, crossing a river and navigating rugged terrain.
The largest gap is on the capital city's northern edge, a roughly 17-mile stretch from Columbia to Peak along the eastern side of the Broad River.
"That's our biggest challenge," Roe said. "There are so many landowners and a railroad track."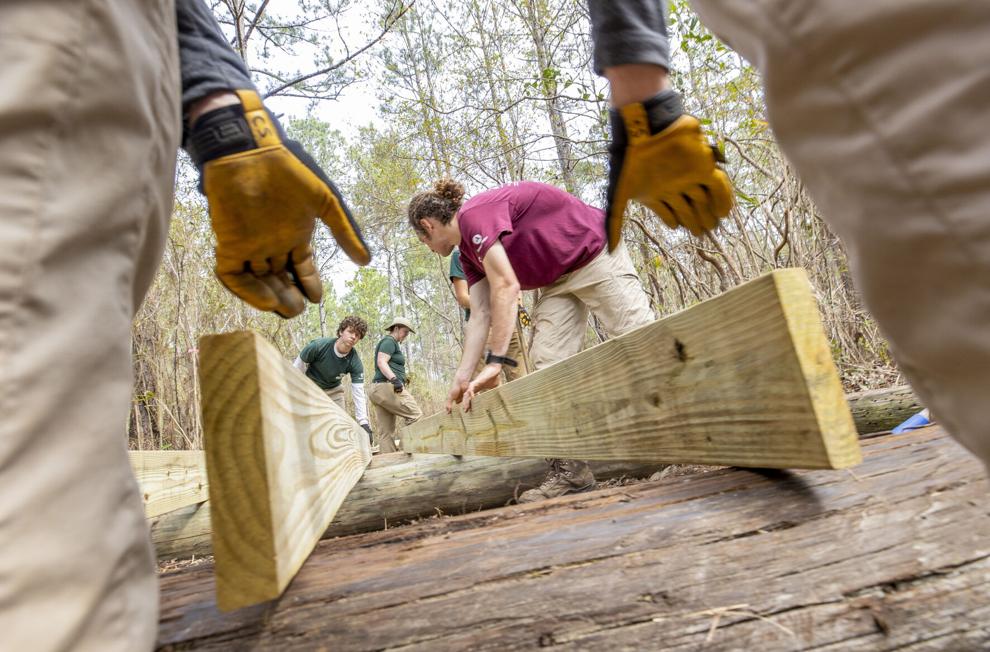 Still, she is confident a solution can be found, though it might cost a few million dollars.
"There is a way," Roe said. "We just have to work it out."
Miller believes running the trail along utilities' rights-of-way with the owners' permission will extend the walking path another seven miles, leaving about 10 miles owned by a slew of public and private interests.
"That will probably be the last section we complete," he said.
Trail developers know all too well the challenges with private property owners.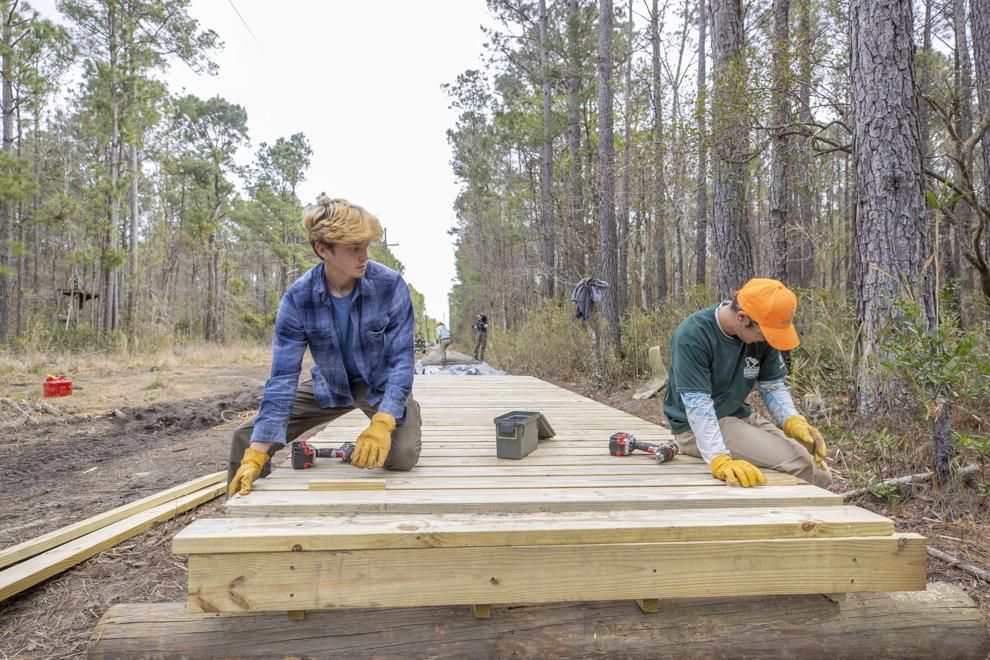 In 2003, property owners near the small town of Peak, northwest of Columbia, sued the foundation to stop it from allowing hikers to use 11.5 miles of an old railroad bed from Peak to Prosperity. They maintained that when the railroad took up the rails in 1995, the old rail bed and its 200-foot easement reverted to private landowners along the railway.
U.S. District Judge Henry M. Herlong ruled otherwise in 2004, saying Norfolk Southern never officially abandoned the railroad when it stopped using it, and the foundation had a legal right to use the land it bought from the railroad for $25,000.
"That section is now one of the most heavily hiked trails in the state," Miller said.
Another small railroad-related section near Prosperity and Newberry is not connected.
"We don't have the rights-of-way to about four to five miles," Roe said.
Trail leaders hope to cut a deal with Norfolk Southern Railroad to complete the short passage so hikers won't have to walk along roadways.
"When possible, Norfolk Southern continues to work with local organizations to find renewed use for inactive rail lines as part of our commitment to sustainability," said railroad spokesman Connor Spielmaker.
At the Tyger River, Roe believes a suspension bridge would be better than a fixed structure. Whichever method is decided, it will be costly and funds will have to be raised to help pay for it.
Another eight miles north of the University of South Carolina at Spartanburg is missing from the trail.
"It revolves around easements and private property owners," Miller said.
Climbing mountains
Several unconnected sections in the mountains pose different problems. It's rugged terrain with lots of switchbacks, but an Upstate group already operates a trail through part of the state's northwest corner.
"We are hoping our friends at the Foothills Trail will let us use their trail," Roe said.
"Our biggest challenge is getting the easements and getting the funding to put the trail in," Miller said.
Upstate trail coordinator Rob Achenberg echoed Miller.
"It's time and money," he said.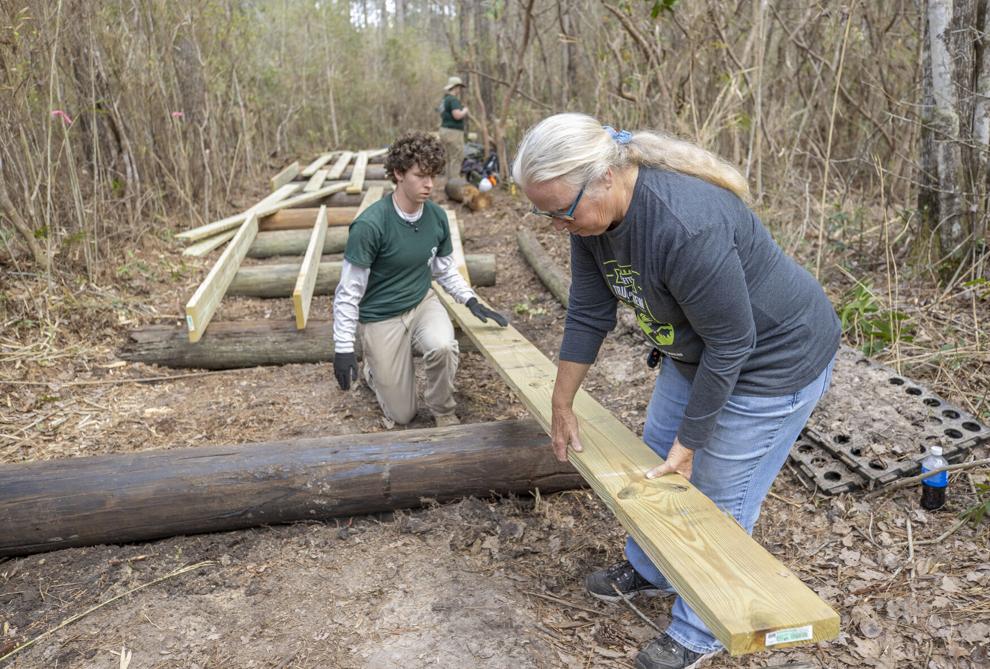 He oversees 11 completed sections in some of the most scenic areas across the mountainous northwest corner of South Carolina. But five other passages remain unfinished, mainly because of topography and many of the same issues in other parts of the state.
One of the biggest challenges is the unconnected section of several miles between Keowee-Toxaway State Park off scenic S.C. Highway 11 and Oconee State Park near Mountain Rest.
"The plan is to get to Devil's Fork State Park on Lake Jocassee and work with the Department of Natural Resources to get to Oconee," Achenberg said. "We either have to build the trail around Lake Keowee or we have to figure out a way to get across (S.C.) Highway 11 to connect everything."
Roe believes one option to continue the trail across Lake Keowee is to work with DOT to install a traffic warning signal on Highway 11 where it crosses the lake to alert drivers that hikers could be walking along the side of the bridge.
While Achenberg points out the mountains are beautiful and popular for hikers, they also present unique challenges.
"People say, 'You are just building a path through the woods. How difficult can it be?'" Achenberg said. "It involves contracts and materials and labor. We try to eliminate the amount of drops and climbs with a hiker-friendly grade and avoid switchbacks as much as possible."
Trail leaders also have to get permission from landowners.
"We are fortunate up here that the vast majority of the property is publicly owned, whether it be federal or state," Achenberg said.
He won't make a guess on when the entire trail will be completed.
"My crystal ball is in the shop," he said with a laugh.
Roe is optimistic all of the obstacles can be overcome within 10 years to finish the monumental endeavor from one end to the other.
Trail's end
When it is, the Palmetto Trail will extend across the entire state from the Atlantic Ocean to the Appalachian Mountains, connecting Awendaw and Walhalla, two tiny towns with very distinct names.
The estimated cost to build the trail is a moving target, and Roe believes it will take another $15 million to complete the state-long path.
When finished, millions of dollars will be invested either through tax funds, grants, individual and corporate contributions and in-kind services from forestry officials and many others.
AmeriCorps volunteers have been one of the biggest contributors to the construction of the trail.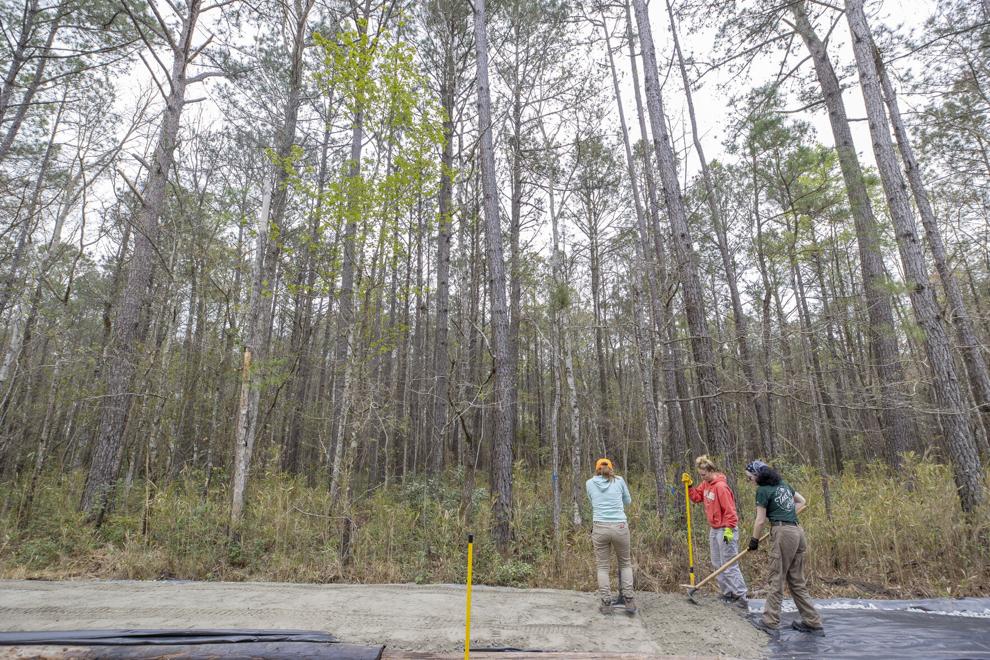 Among them is Cole Stilwell of Lexington.
Stilwell, 19, hiked about 150 miles of the Palmetto Trail while in high school and wrote an outdoor recreation column for his hometown newspaper.
When he graduated, he wasn't ready to go to college, so he volunteered for the AmeriCorps program.
While helping other volunteers hoist old telephone poles into place to create a boardwalk over a frequently flooded part of the trail near Awendaw in April, Stilwell said volunteering was a way to get some hands-on experience before he enters Clemson University in the fall to study parks, recreation and tourism.
"I enjoy it," he said. "I've hiked a lot of the trail so this is a way to give back."
AmeriCorps worker Kylie Sheahan of Waterford, Conn., helped pack down crushed rocks recently on a raised section of the Awendaw Passage prone to water intrusion.
"I wanted to do something with the environment, and I wanted to travel," the 23-year-old said. "It gave me time to think about what I want to do with my life. … It's very far out of my comfort zone, but it's very rewarding and I've learned a lot."
'A gift to the people'
Their work and that of countless others help to bring of bit of outdoor recreation to thousands of people each year.
Miller estimates 75,000 people use the most popular sections annually. They include the Peak to Prosperity Passage northwest of Columbia, the Awendaw Passage near Charleston and the Blue Wall Passage north of Greenville.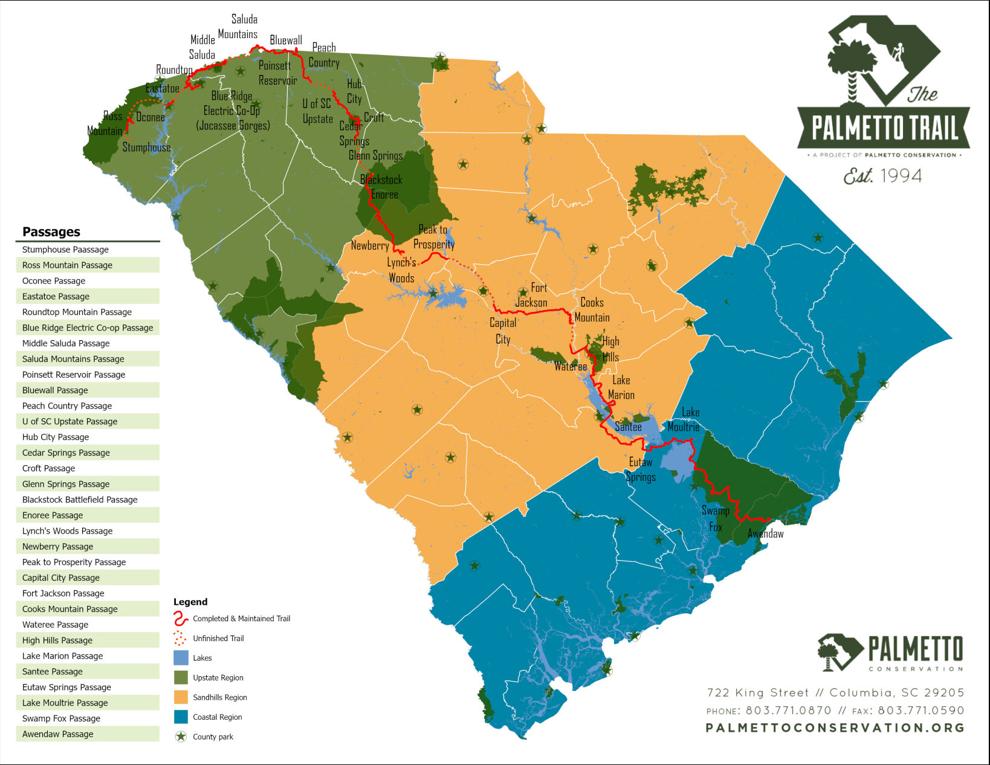 Among those recently enjoying a less-traveled section was Chip Stanley of Columbia.
While taking a spring hike along the Lake Marion Passage at Sparkleberry Landing, Stanley called the trail one of the state's "underutilized assets" that could be incorporated into an educational experience.
"A lot of children in urban areas don't have an outlet for this kind of experience," Stanley said. "It would be a real eye opener."
Out for a day hike as well was Sarah Moffly of Awendaw.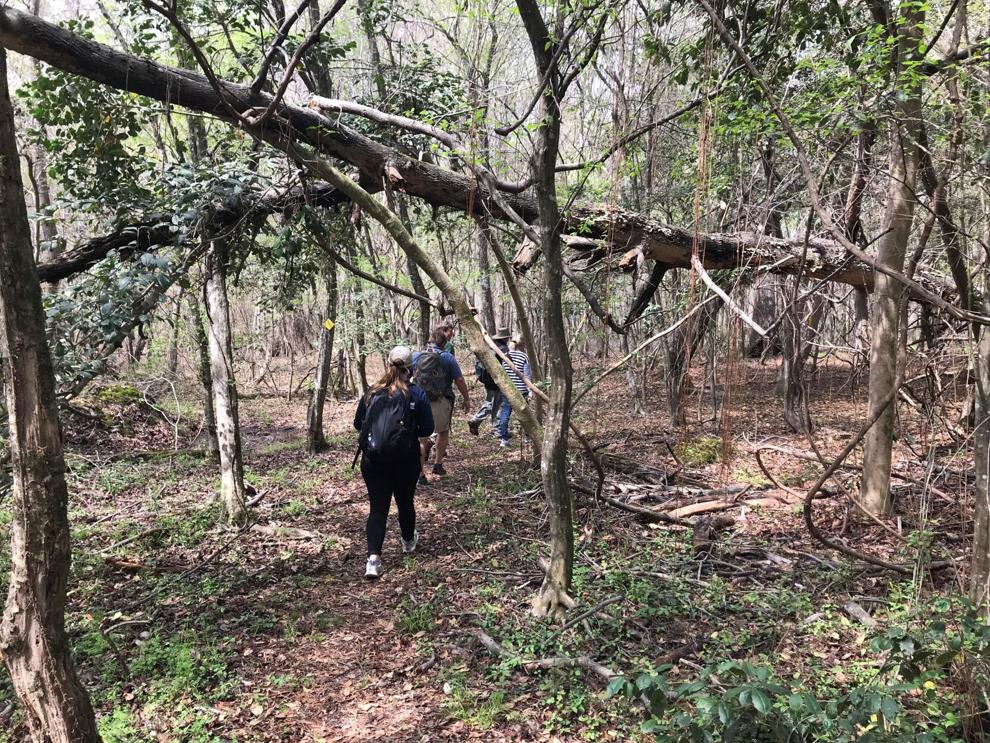 She looked out over a carpet of greenery masking the brown of winter among the cypress and other hardwoods on the edge of a Lowcountry swamp and said, "It's really beautiful. It's good to get out and see some of nature."
Miller loves to see people enjoying the fruits of all of the hard work and money that has gone into the nearly 30-year-old endeavor, but he realizes it's a work in progress.
And even when it's completed, it will still require maintenance.
"There will always be something to do to keep the trail open by removing a fallen tree or fixing a section in disrepair," Roe said. "But it's free and open to the public, and it's a gift to the people of South Carolina."
For the latest Palmetto Trail video, go to: https://app.frame.io/presentations/9e49d9ef-5a3d-4d25-ada9-727d019b6e5d
Note: June 4 was National Trails Day
—postandcourier.com