ALABAMA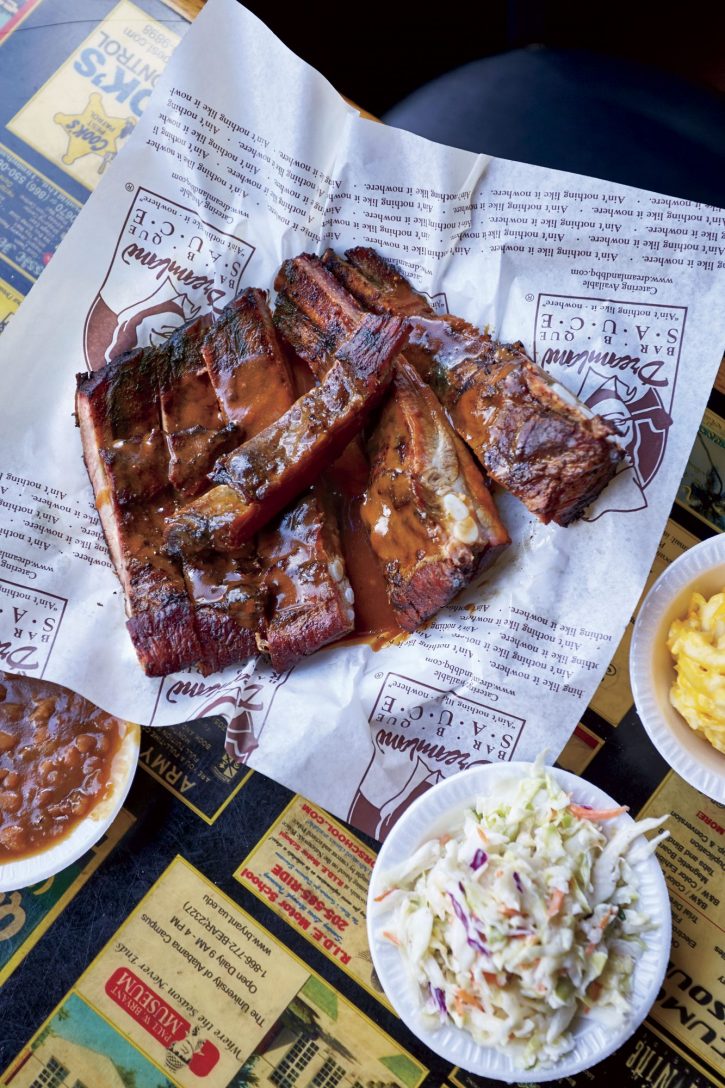 Dreamland Bar-B-Que, Tuscaloosa
Ribs are the name of the game here. They're long and thin and have a wonderful chewy texture and crisp bits of char around the edges. There are 10 locations in three states, but the Tuscaloosa original is an undisputed Alabama icon.
Photo credit: Hector Manuel Sanchez
dreamlandbbq.com, 205-758-8135, 5535 15th Avenue East, Tuscaloosa, AL 35405
ARKANSAS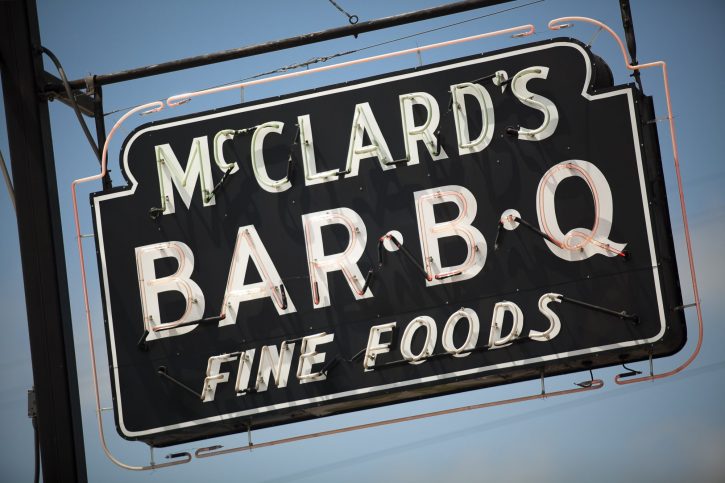 McClard's Bar-B-Q, Hot Springs
This place was founded in 1928, and the fourth generation of McClards still draws legions of fans with hickory- smoked beef and pork—the family trademark. The signature order is the Ribs and Fry plate—a slab of ribs basted in sweet red sauce and buried in a mound of fries.
Photo credit: Dero Sanford
mcclards.com, 501-623-9665, 505 Albert Pike, Hot Springs, AR 71913 
FLORIDA
4 Rivers Smokehouse, Winter Park
As barbecue restaurants go, 4 Rivers Smokehouse is something of an upstart. The business is just over a decade old, and its offerings cut across regional styles and challenge traditional boundaries. It's growing fast too. Founded in 2009 in Winter Park, 4 Rivers has now expanded to 13 locations in Florida, with plans for more. This place is well known for its slow-smoked brisket, but the best bet is the Santa Maria tri-tip—a specialty that's popular in California. With a crisp brown crust outside and a rosy pink middle, each slice delivers a delicious beefy bite.
Photo Credit: Robbie Capponetto
4rsmokehouse.com, 1-844-474-8377, 1600 West Fairbanks Avenue, Winter Park, FL 32789
GEORGIA
Wiley's Championship BBQ, Savannah

This popular pit, located on U.S. 80, has everything from pulled pork and chicken to brisket and burnt ends. Fans love the Redneck Nachos with house-made potato chips.
wileyschampionshipbbq.com, 912-201-3259, 4700 Highway 80 East, Savannah, GA 31410
KENTUCKY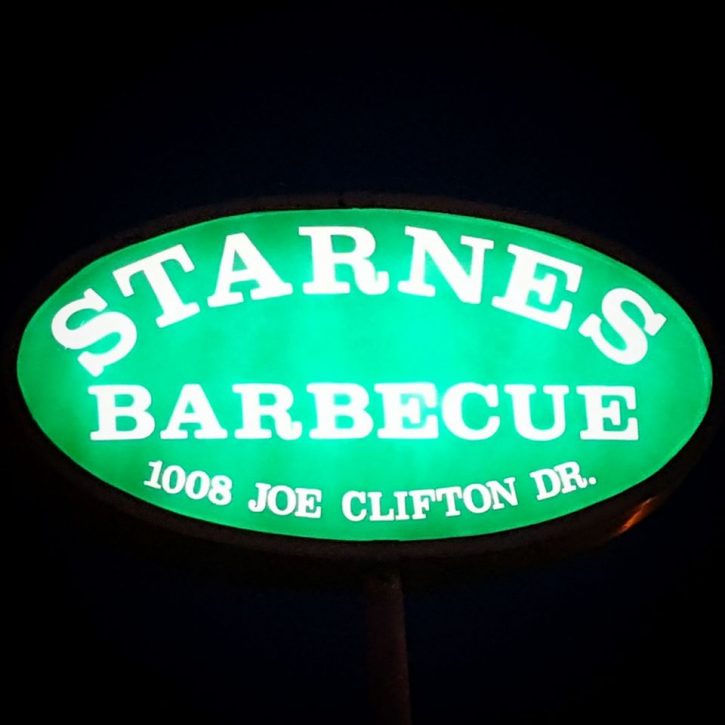 Starnes Barbecue, Paducah

Starnes is just a bit off the beaten path, but it's a genuine Kentucky classic. The cinder block walls of the low-slung building are painted vivid seafoam green, and you can grab a stool at the U-shaped counter. The pork sandwiches here are simple but extraordinary, with nely chopped meat tucked between two slices of toasted white bread. Believe it or not, the smoked bologna sandwich is even better.
270-444-9555, 1008 Joe Clifton Drive,
Paducah, KY 42001
LOUISIANA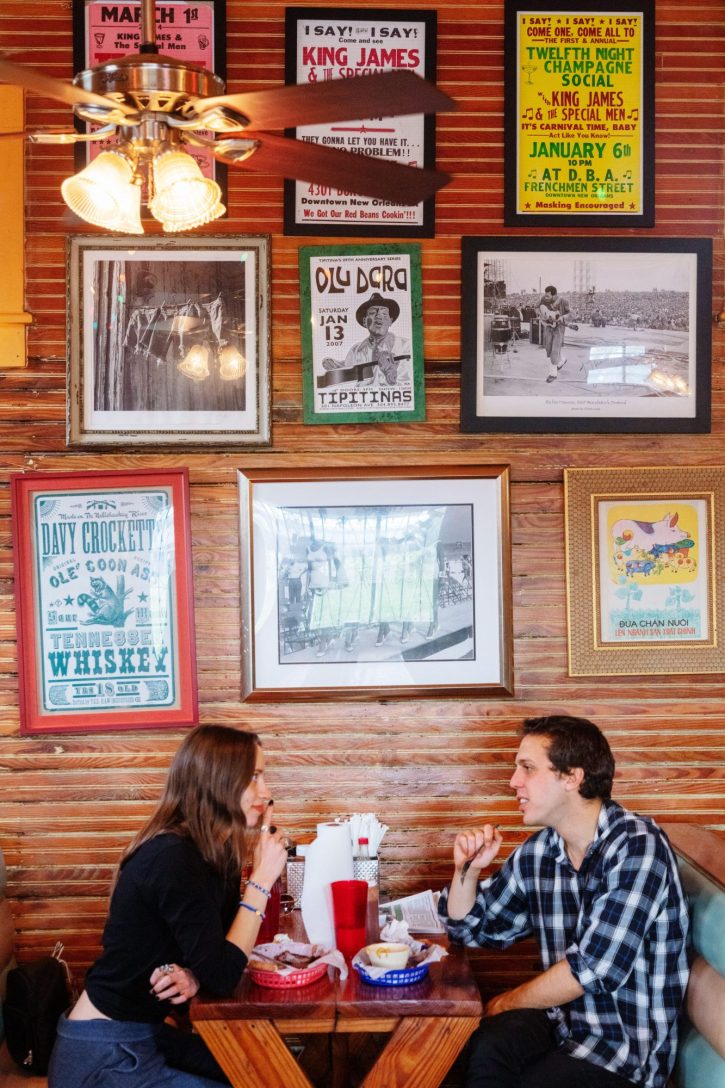 The Joint, New Orleans

In the Bywater neighborhood lies The Joint, part of a crop of restaurants now upping the New Orleans barbecue game. Custom steel smokers turn out brisket, baby back ribs, and chicken. Smoked chaurice pork sausage, studded with jalapeños and garlic, offers a Cajun touch.
Photo Credit: Hector Manuel Sanchez
alwayssmokin.com, 504-949-3232, 701 Mazant Street, New Orleans, LA 70117
MISSISSIPPI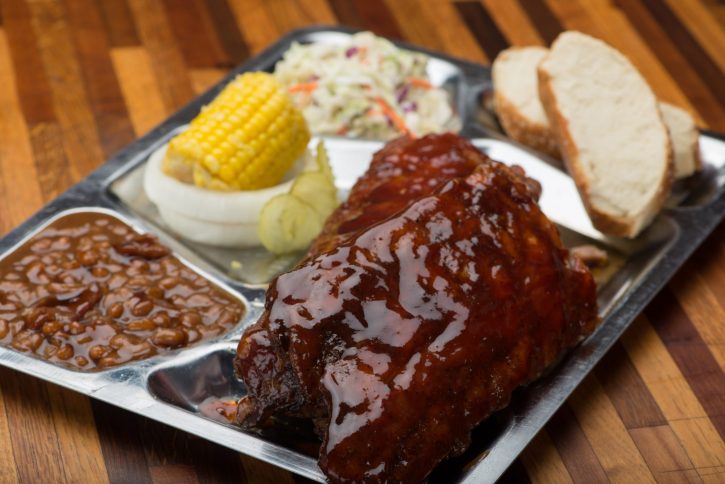 The Shed Barbeque and Blues Joint, Ocean Springs

Just over 15 miles east of Biloxi lies a sprawling compound with a gravel parking lot and a hodgepodge of tin-roofed wooden buildings. This is The Shed, where hungry crowds sit at long picnic tables and wolf down platters of juicy ribs, brisket, and pulled pork. Slow-smoked meats, live blues, and cold beer have made this spot a destination.
Photo courtesy of The Shed Barbeque and Blues Joint
theshedbbq.com, 228-875-7373, 6205 HWY 57, Ocean Springs, MS 39565
MISSOURI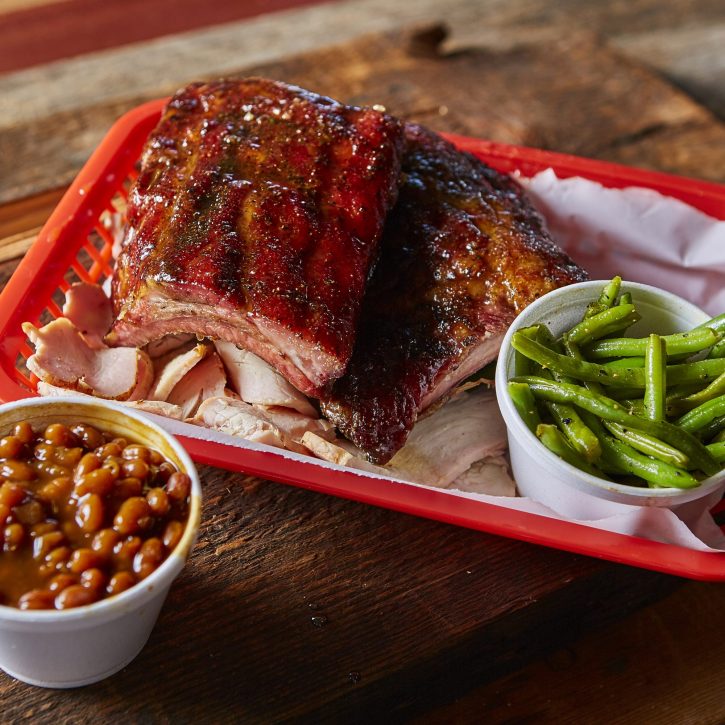 Pappy's Smokehouse, St. Louis
The barbecue here might be Memphis style, but glistening racks of ribs and overstuffed sandwiches have earned Pappy's the nod as the best barbecue joint in Missouri. They cook it fresh and often sell out by midafternoon.
Photo Credit: @schrommdotcom
pappyssmokehouse.com, 314-535-4340, 3106 Olive Street, St. Louis, MO 63103
NORTH CAROLINA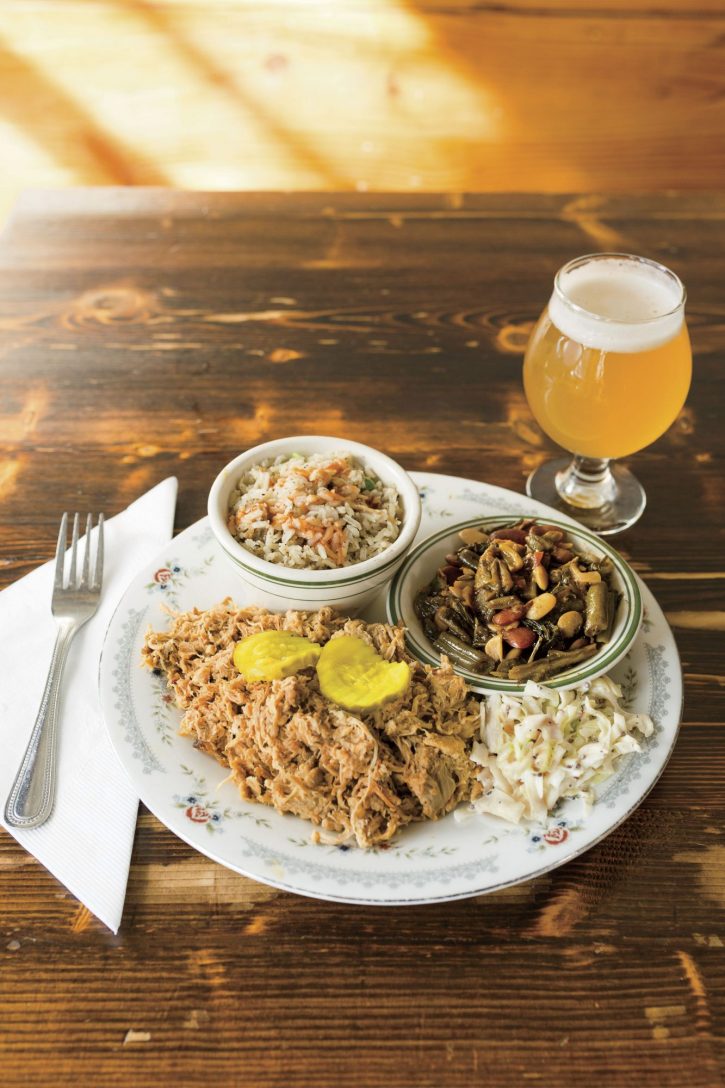 Buxton Hall Barbecue, Asheville
Since 2015, Buxton Hall has wowed diners with its wood- cooked whole hog, down-home sides, and homemade cakes and pies. The setting—a 1930s former roller-skating rink—is one of a kind, and so are the green beans (cooked below the pig to catch the drippings) and the smoky fried catfish.
Photo Credit: Cameron Reynolds
buxtonhall.com, 828-232-7216, 32 Banks Avenue, Asheville, NC 28801
OKLAHOMA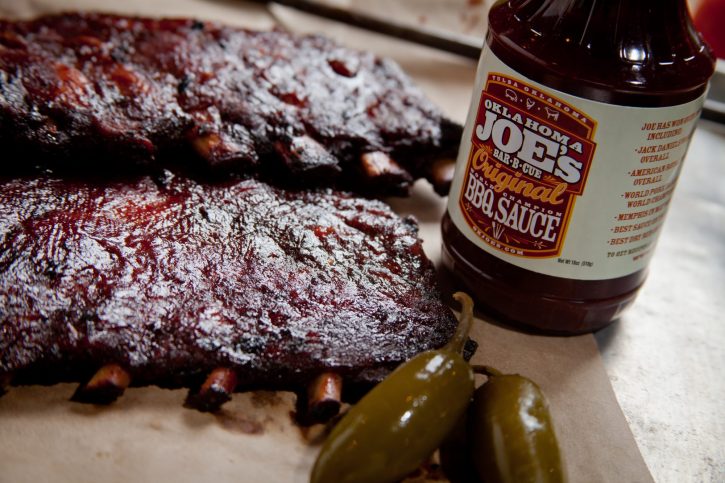 Oklahoma Joe's Bar-B-Cue, Stillwater
Joe Davidson built a booming company that manufactures barbecue smokers, but he branched out in 1994 to open the first Oklahoma Joe's in Stillwater. Now there are five locations in the state and another one in Nebraska. Ribs and brisket anchor the menu, and regulars love their crispy burnt ends and massive BarbeQulossal sandwiches.
Photo Credit: Oklahoma Joe's
okjoes.com, 918- 960-2017, 25 West 5th Street, Tulsa, OK 74136
SOUTH CAROLINA
Rodney Scott's Whole Hog BBQ, Charleston
About three years ago, Rodney Scott brought his family's distinctive style of whole-hog barbecue from tiny Hemingway, South Carolina, to downtown Charleston. The pulled pork has a delicious, tongue-tingling flavor with a subtle dose of smoke. It's the real deal, and now he even has a Birmingham outpost.
rodneyscottsbbq.com, 843-990-9535, 1011 King Street, Charleston, SC 35222
TENNESSEE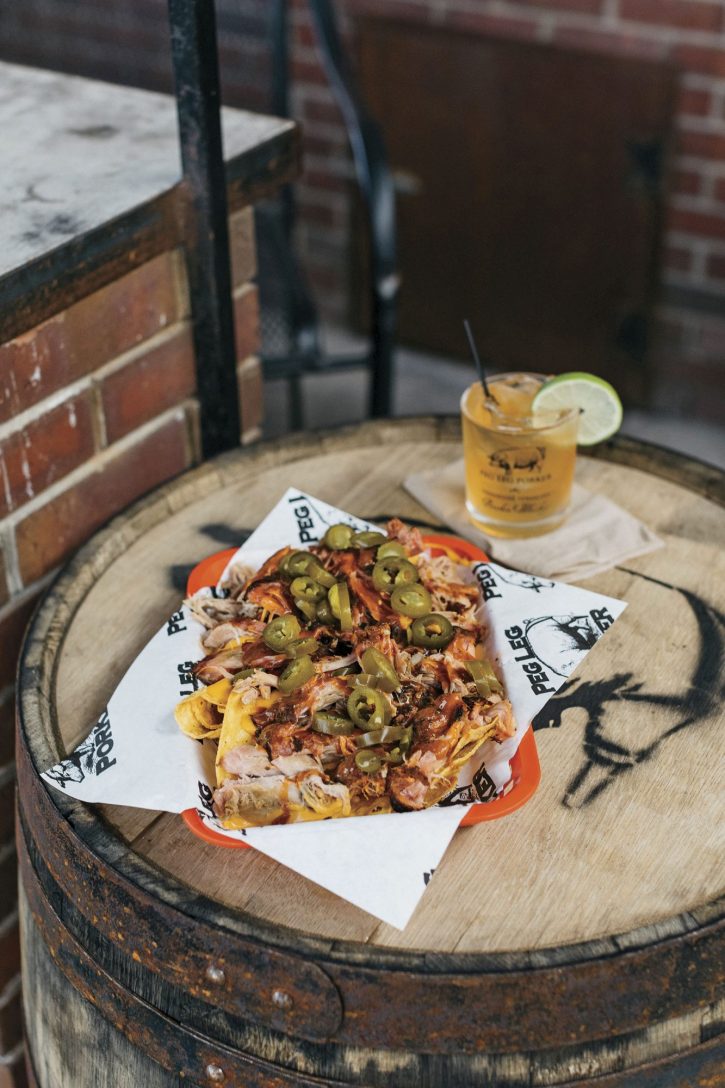 Peg Leg Porker, Nashville
Why do diners flock to this spot in the Gulch? Is it the dry-rubbed ribs, tender pulled pork, or juicy smoked chicken? Top-notch sides raise the bar, and it doesn't hurt that the joint has its own house brand of whiskey, Peg Leg Porker Bourbon.
Photo Credit: Alyssa Jiosa Cox
peglegporker.com, 615-829-6023, 903 Gleaves Street, Nashville, TN 37203
TEXAS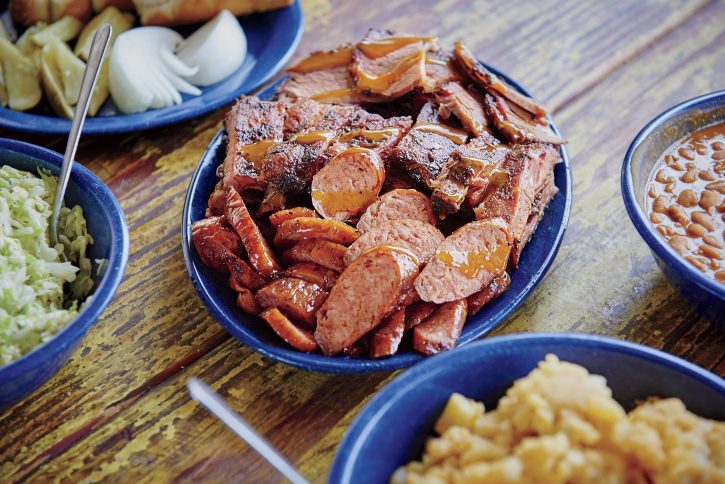 The Salt Lick BBQ, Driftwood
There is no shortage of slow-smoked barbecue in the state of Texas, but each year The Salt Lick has bubbled to the top of our readers' poll. There are four locations, but the setting of their original Driftwood restaurant is surely a factor, whether it's the views from the sturdy wooden tables on the dining porches, the expansive grounds, or the round stone finishing pit that tempts folks as they enter. It's a splendid environment for tucking into big plates of brisket, sausage, and ribs.
Photo Credit: Nick Simonite
saltlickbbq.com, 512-858-4959, 18300 FM 1826, Driftwood, TX 78619
VIRGINIA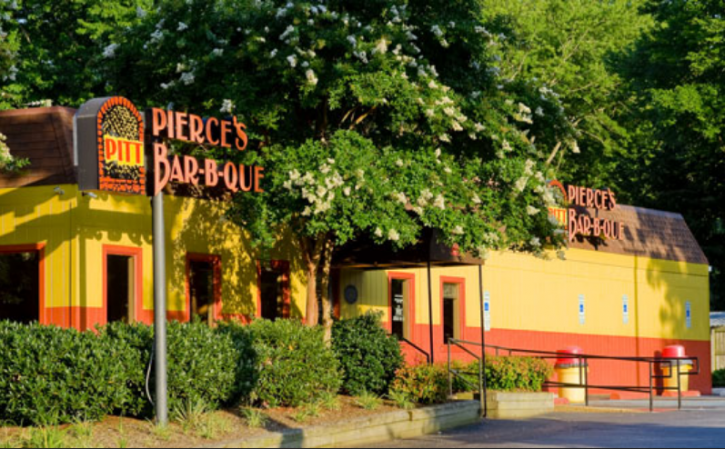 Pierce's Pitt Bar-B-Que, Williamsburg
In 1971, Julius "Doc" Pierce brought his original sauce recipe with him from Flat Creek, Tennessee, and opened Pierce's Pitt Bar-B-Que just outside Williamsburg. Ever since, the Pierce family has consistently delighted the Hampton Roads area with tasty pulled pork and half chickens cooked over oak and hickory coals.
Photo Credit: Pierces.com
pierces.com, 757-565-2955, 447 East Rochambeau Drive, Williamsburg, VA 23188
WASHINGTON, D.C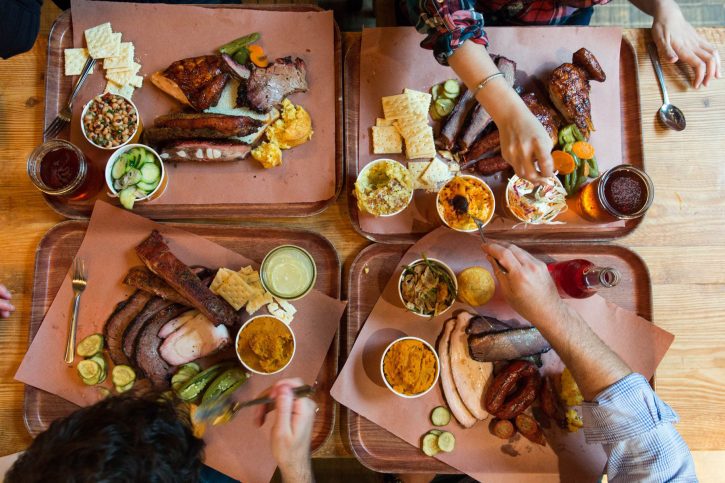 Hill Country Barbecue Market, Downtown 
This D.C. favorite brings the style of a Texas Hill Country meat market to the heart of the nation's capital. Slow-smoked brisket, ribs, and pork are sliced to order, then wrapped up in brown butcher paper and sold by the pound. Don't miss the jalapeño-cheese sausage links, which are shipped in direct from legendary Kreuz Market in Lockhart, Texas.
Photo Credit: Hill Country Barbecue Market
hillcountry.com, 202-556-2050,410 7th Street NW, Washington, DC 20004
–southernliving.com